Press Release
March 23, 2020
Digital Arts Inc.
A Safe, Secure Educational Environment with "i-FILTER®"
Offering Special Versions Aimed at GIGA School Concept
Information security solution provider Digital Arts Inc. (headquartered in Chiyoda-ku, Tokyo, Japan; CEO: Toshio Dogu; hereinafter referred to as "Digital Arts"; Code 2326) will offer special versions of its "i-FILTER" security product on 1 April, 2020, with the goal of creating a safe and secure environment at educational institutions, after taking into account Japan's Ministry of Education, Culture, Sports, Science and Technology (MEXT) GIGA School concept announced in December 2019.
The GIGA School concept is aimed at improving educational institutions' information and communication technology (ICT) environments. To do so, it aims to implement a high-speed, high-capacity communications network and to provide one device per student for studying, all by fiscal 2023. Digital Arts realizes that this will bring an increased risk of targeted attacks due to the increase in number of devices on-site at schools, and that for this reason stronger security measures than those of the past must be considered.
"i-FILTER" is being used by many educational institutions as a security measure for educational devices. In addition to filtering against harmful information, it also uses a whitelist to defend against targeted attacks targeting informational assets.
This special version is aimed at the implementation of the GIGA School concept. It features the "i-FILTER Child Safeguard System" which is part of an effort to support educational institutions with an additional service that provides alerts when a child attempts to access a suicide or similar type of website. This additional service is offered at no extra cost.
"i-FILTER" special versions overview
Additional service offered to support educational institutions free of charge with goal of ensuring a safe and secure educational environment through supplemental security measures
Use of measures against harmful information + those against targeted attacks using whitelist to form solid security measure

Offering contents that support educational institutions, free of charge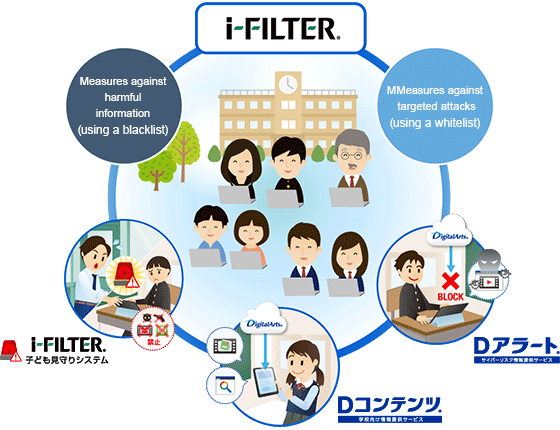 "i-FILTER Child Safeguard System"
When a student attempts to access a suicide website or similar, this "i-FILTER" feature blocks the attempt and alerts a designated staff member and an alarm device. This works as a kind of distress signal for children; a "Safeguard Alarm" allowing educators to discover potential issues as quickly as possible.
"D-contents" information provision service for schools
"D-contents" offers a popularity ranking of educational apps frequently used by elementary, junior high and high schools across Japan, based on a URL information database.
"D-alert" cyber risk information service
This service provides alerts about malware infection and others through use of the "i-FILTER" web security product.
Special price for educational institutions
These special editions are offered at discounted prices.
On-premises editions
"i-FILTER" Version 10 GIGA School Edition
"i-FILTER" for D-SPA Version 4 GIGA School Edition
Up to 63% off regular price 1
Cloud edition 2
"i-FILTER@Cloud" GIGA School Edition


¥150 per month per user
1 Discount percentage in the case of "i-FILTER" Version 10 GIGA School Edition license 4000 to 4999. Discount percentage will differ based on number of licenses under contract.
2 There are some differences in the number of features between cloud and on-premises editions. Please inquire for full details.
Switchover support
When switching over from one of our company's products, or from another company's product, we will apply a 300 yen discount per contract license per remaining license year.
Network organization and operating system
Both the on-premises editions and cloud edition are compatible with intra-school LAN/center consolidation/LTE, and with various operating systems (Windows, iOS, ChromebookOS).
GIGA School Concept Support Campaign Special Website (in Japanese only)
Digital Arts will continue to offer safety and peace of mind to internet society, and work to increase the level of satisfaction in all of our products. We aim to develop and offer solutions more quickly and on a wider scale for various informational assets such as web, e-mail and files, with an eye on solutions to prevent and handle the ever-increasing threat of targeted attack e-mails from outside and information leaks from inside.
About "i-FILTER"

"i-FILTER" is a proxy type internet security software that, in a single product, combines countermeasures against external targeted attacks with countermeasures against information leakage from within the organization. It has become number one in the sales share of internet filtering software by a vendor in Japan (issued by ITR Inc. "ITR Market View: Cyber Security Measures Market 2020" URL Filtering Market: Individual Vendor Proceeds Share (2017-2018) (published February, 2020)). It boasts the industry's one of the largest internet filtering database, and blocks targeted attacks via non-registered URLs by treating them as malicious, to realize a safe internet environment. Furthermore, it blocks access to inappropriate sites during work hours, and using this database it is possible to prevent leakage of information via the internet by the use of web-based e-mail, online bulletin boards, and others. When doing so, it can also record, confirm and save the content, making it an effective solution for internal control measures.
https://www.daj.jp/bs/i-filter/
About Digital Arts

Digital Arts Inc. is an information security manufacturer focused on developing security software for the web, e-mail and files.
Since the dawn of the internet era, we have been a pioneer in the industry, releasing the first web filtering software in 1998 to be produced in Japan which saw use around the world. With the knowledge we have built up since then, we offer cutting-edge information security products focused on information leaks and cyber attacks including targeted attack e-mails. Making full use of our advantages as a domestic manufacturer, we integrate our product planning, development, sales and support in Japan, and have Japan's largest web filtering database that acts as the underlying base for all of our products. Our technological knowhow has led us to hold patents in 27 countries and territories and to be well-regarded in the industry. Our extremely high level of customer satisfaction is evidenced by a 95% or more contract renewal rate. With web security software "i-FILTER" at the core, we offer "i-FILTER" for private and home use, e-mail security software "m-FILTER", and file encryption and tracing software "FinalCode" as part of our lineup for a one-stop web, e-mail and file security solution.
Our goal is to continue contributing to a more convenient, more comfortable and safer internet lifestyle. We want to continue to hold the trust of all our stakeholders as a company listed on the First Section of the Tokyo Stock Exchange as we grow moving forward.
https://www.daj.jp
* DIGITAL ARTS, i-FILTER, info board, ARS, Active Rating System, ACTIVE RATING, ZBRAIN, D-SPA, SP-Cache, NET FILTER, White Web, m-FILTER, m-FILTER MailFilter, m-FILTER Archive, m-FILTER Anti-Spam, m-FILTER File Scan, Mail Detox, FinalCode, i-FILTER, DigitalArts@Cloud, Chat@Cloud, D Alert, D Content, and related logos and icons are trademarks or registered trademarks of Digital Arts Inc.
* Other corporate and product names are the trademarks of their respective companies.