Press Release
August 20, 2020
Digital Arts Inc.
Hyogo Prefecture's Ashiya City Board of Education implemented "i-FILTER@Cloud" GIGA School Edition as an emergency measure for online learning environments amid the COVID-19 pandemic


- realizing zero disparity education through equal access to devices at home and at school.
Information security solution provider Digital Arts, Inc. (headquarters: Chiyoda-ku, Tokyo, Japan; CEO: Toshio Dogu; hereinafter referred to as "Digital Arts"; Code 2326) is pleased to announce that Hyogo Prefecture's Ashiya City Board of Education (Superintendent: Kensuke Fukuoka) has adopted its web security cloud service "i-FILTER@Cloud" GIGA School Edition as an emergency measure for schools' online learning environments amid the COVID-19 pandemic.
In addition to the need to respond to the Japanese Ministry of Education, Culture, Sports, Science and Technology's "GIGA School Program," the construction of COVID-19 era learning environments has lead to the implementation of online learning systems becoming a pressing issue.
Ashiya City has long been held up as the "city of education." In order for its children to make it in this era of rapid change, its philosophy has been to place importance on understanding the importance of education through thinking for oneself when it comes to way of life, and having the attitude that learning is a lifetime process. Furthermore, in addition to basic academic ability and morals, information education, education capable of meeting internationalization, and health education that includes physical education and sports are all prioritized. With this, some classes using computers were also held since it is thought that information education is an important issue facing the children of the future as they obtain what is needed to become digital natives and learn about digital literacy. However, as all schools in Japan were closed in March of this year, students were given take-home learning devices, and the set-up of networks was carried out in order to improve each households access to online learning environments.
In order to maintain this kind of online learning environment, it is important to simultaneously put in place security measures that ensure safe and secure internet connections on devices outside of schools. The web security cloud service "i-FILTER@Cloud" GIGA School Edition is simple and quick to implement in a cloud environment, includes filtering to limit access to potentially harmul information unrelated to studies, and prevents external attacks targetting information assets through the use of white lists. With flexible filtering rules that can be set by the administrator, specific video channels such as the Ministry of Education, Culture, Sports, Science and Technology's YouTube channel, and such digital content as those specified by Ashiya city, can be made accessible while keeping ordinarily prohibited content inaccessible.
Comment from Ryo Obayashi - Uchide Educational Culture Center, School Education Department, Ashiya City Board of Education
Up to now, Ashiya City has been conducting information education at elementary and junior high schools using laptops.
However, due to school closures and the like as a result of the COVID-19 pandemic, what we found necessary when offering digital content to homes as a form of at-home learning support was being able to provide the same quality of education to households without internet connections.
Because of this, the city decided to trial the distribution of devices and mobile routers to homes with "no exclusive device for students" or "no Internet connection." At the same time, a product that could be introduced quickly while still providing full security coverage was needed. That is why we chose to use the same cloud service we have been using for web filters on schools' networks, "i-FILTER@Cloud" GIGA School Edition. Using these devices, students have been learning through the educational content provided by the Japanese Ministry of Education, Culture, Sports, Science and Technology, worksheets recommended by Ashiya City, and other digital educational content such as videos.
It has been of great help as the devices feel the same as those used at schools up until now, and administrators have access to the same settings and web filtering software used on their school's network too.
We plan on developing a full-scale online class environment in the future based on what's outlined in the GIGA School Program.
Digital Arts' "i-FILTER" GIGA School Edition Special Lineup
- Use of measures against harmful information + those against targeted attacks using whitelist to form solid security measure
- Offering content that support educational institutions, free of charge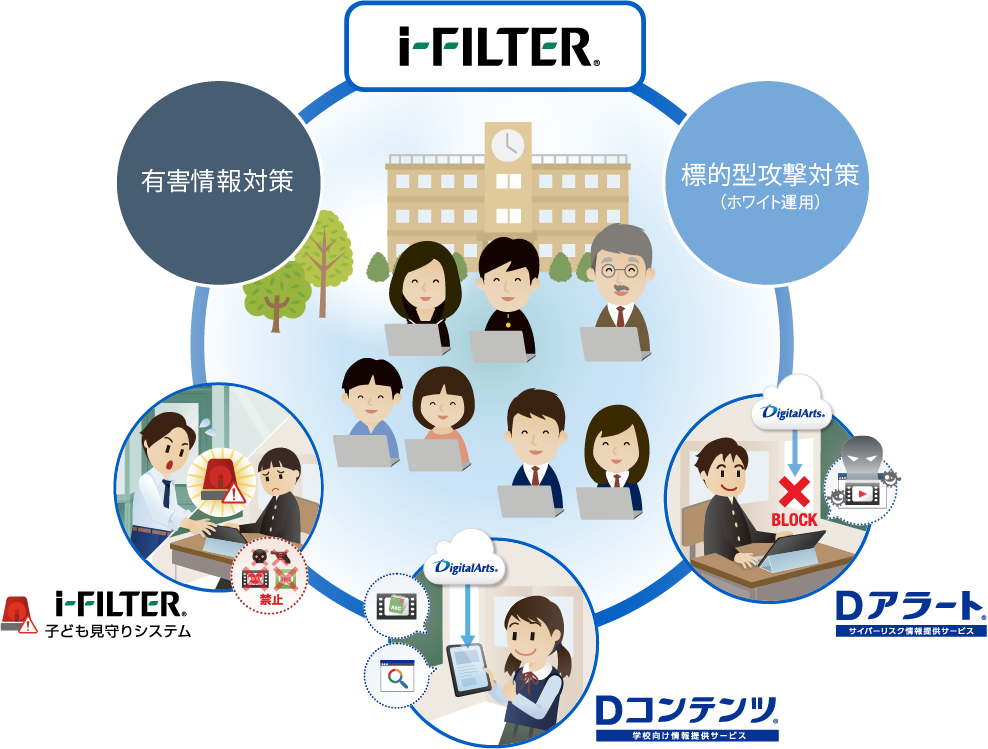 < "i-FILTER Child Safeguard System" >
When a student attempts to access websites with information on suicide or similar, this "i-FILTER" feature blocks the attempt and alerts a designated staff member and an alarm device.
< "D-contents" information provision service for schools >
"D-contents" offers a popularity ranking of educational apps frequently used by elementary, junior high and high schools across Japan, based on a URL information database.
< "D Alert" Cyber risk information service >
This service provides alerts about malware infections and similar through the use of the web security product "i-FILTER."
Digital Arts, Inc. Overview

Digital Arts, Inc. is an information security solution provider focused on the development and sales of security software for web, e-mail, files and others.
Since its founding in 1995 the company philosophy has been "Contributing to a safer, better, more convenient internet lifestyle" and since developing web filtering software to prevent the browsing of harmful information on the internet, the company has been promoting internet security products to companies, the public sector and homes everywhere.
https://www.daj.jp/
* DIGITAL ARTS, i-FILTER, info board, ARS, Active Rating System, ACTIVE RATING, ZBRAIN, D-SPA, SP-Cache, NET FILTER, White Web, m-FILTER, m-FILTER MailFilter, m-FILTER Archive, m-FILTER Anti-Spam, m-FILTER File Scan, Mail Detox, FinalCode, i-FILTER, DigitalArts@Cloud, Chat@Cloud, D Alert, D Content, and related logos and icons are trademarks or registered trademarks of Digital Arts Inc. FinalCode is a registered trademark of FinalCode, Inc.
* Other corporate and product names are the trademarks of their respective companies.