Press Release
May 19, 2021
Digital Arts, Inc.
Digital Arts cuts number of commuting employees by approximately 94%

– Remote work implementation results to be published on government website –
Information security solution provider Digital Arts Inc. (headquarters: Chiyoda-ku, Tokyo, Japan; CEO: Toshio Dogu; Code 2326) is pleased to announce that since the state of emergency issued in April 2020, allowing remote working has reduced the number of employees commuting to work by approximately 94%. Today, the information we published on our own website about the implementation of remote work at our company has also been published on a government website where the remote work conditions of various businesses is being compiled.
94% of all Employees Working from Home at Least Four Days a Week and Zero COVID-19 Cases Recorded
With the spread of COVID-19, Digital Arts shifted entirely to remote work on April 6, 2020. As of April 1, 2021, 264 of our 282 full-time employees (including concurrent officers), contract employees, part-time employees, and temporary employees have been working from home at least four days a week (remote work percentage 93.6%). Additionally, we have yet to record a single case of COVID-19 among our employees and their families. As a security provider that protects the digital security of companies and organizations, we strive to conduct safe and secure business operations and provide security solutions by minimizing the risk to the safety and health of not only our employees and their families but our customers too.
The government's basic COVID-19 countermeasures revised on May 7, 2021, requested that "businesses actively publicly report their efforts to achieve a remote work percentage of 70% and work with related businesses to spread the reported information." As such, we have published the status of remote work at our own company on our website. The Ministry of Economy, Trade and Industry has stated that the information on the websites published by each business will be compiled and published in a list, and a page showing their remote work efforts will also be published.
Our website
https://www.daj.jp/webtopics/30/
The government's website
https://www.meti.go.jp/covid-19/attendance.html
Efforts to Improve Communication During Remote Work
The biggest challenge in working from home is reduced communication. In light of this, we use our own in-house developed business communication tool Desk@Cloud to hold internal and external meetings. We have also been supporting online lunches and online drinking parties.
Desk@Cloud is a 100% made-in-Japan chat and online meeting tool that allows one to easily and frequently carry out internal and external communications in a near face-to-face way. From the perspective of a security provider, by including features that provide customers with dedicated domains that make it harder for them to be the targets of attacks and that prevent erroneous e-mail, which could have previously occurred through email exchanges, we have been able to provide a more secure web conferencing system.
In April 2020, we established a subsidy system for online lunches and online drinking parties as a way to relieve the anxiety and reduction in communication that comes with working from home. Using our own software Desk@Cloud, employees can have online lunches up to three times a week (500 yen per lunch) and online drinking parties up to once a week (1,000 yen per party) together. Many of our employees have taken up the opportunity to use these subsidies.
In-house developed business communication tool


Desk@Cloud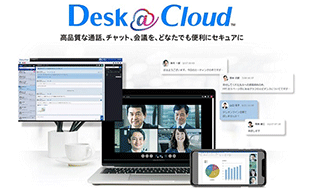 Desk@Cloud is a secure business communication tool that improves the safety and productivity of internal communications. Released on October 1, 2020, it was developed in-house for the purpose of preventing the deterioration of internal communication and improving work efficiency while working from home.
See below for more information:
Online lunch / online drinking party subsidy system


Lunch@Cloud / Drinking party@Cloud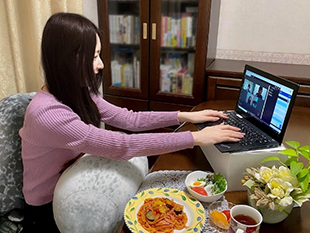 When a lunch or social gathering is held among multiple employees using Desk@Cloud, the cost will be subsidized up to the number of times below.
Payment amount / number of times

Lunch@ Cloud:
Up to three times a week, 500 yen subsidy each time
Drinking party@ Cloud:
Up to once a week, 1,000 yen subsidy each time
* DIGITAL ARTS, i-FILTER, info board, ARS, Active Rating System, ACTIVE RATING, ZBRAIN, D-SPA, SP-Cache, NET FILTER, White Web, m-FILTER, m-FILTER MailFilter, m-FILTER Archive, m-FILTER Anti-Spam, m-FILTER File Scan, Mail Detox, FinalCode, i-FILTER, DigitalArts@Cloud, Desk@Cloud, D Alert, D Content, and related logos and icons are trademarks or registered trademarks of Digital Arts Inc.
* Other corporate and product names are the trademarks of their respective companies.