Press Release
February 24, 2022
Digital Arts Inc.
Security Report
Three year compilation of domestic security incidents shows hacking to be most common incident
Ransomware surges in 2021, making up for 80% of all malware infections
Information security solutions provider Digital Arts Inc. (headquarters: Chiyoda-ku, Tokyo, Japan; CEO: Toshio Dogu; hereinafter referred to as "Digital Arts"; Code 2326) is pleased to announce the release of a security report that contains a compilation of domestic security incidents from the past three years.
Independent tabulation of information leaks and other security incidents in domestic organizations from 2019 to 2021
Digital Arts has independently compiled a report on security incidents such as information leaks at domestic organizations between 2019 and 2021 based on public reports by the organizations concerned and press materials from the media In 2021, there were 697 domestic security incidents, up from 607 the previous year. The largest number incidents was hacking with 207, followed by 171 incidents due to erroneous operations or settings. Incidents due to ransomware also spiked in 2021, accounting for the majority of ransomware/malware infection incidents, 32 out of 39 incidents.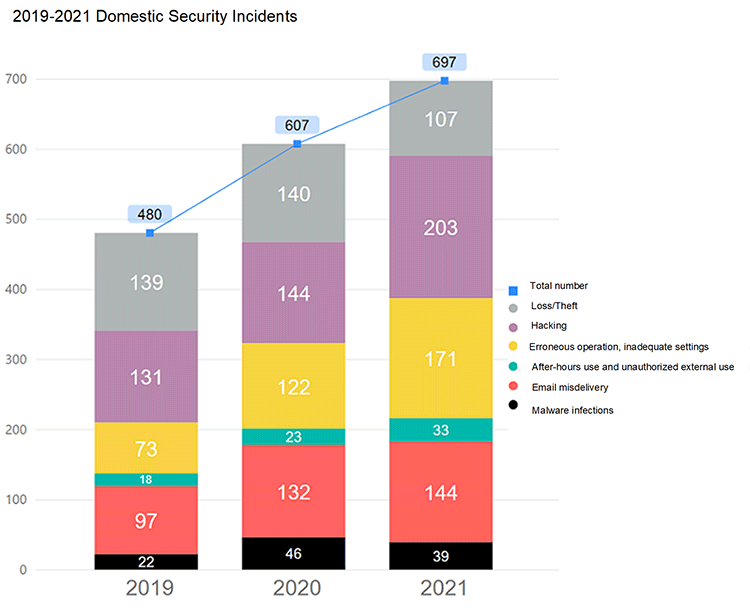 The most common security incident was hacking, with the main cause being vulnerabilities
First, an example of hacking in 2021 was the hacking of a project information sharing tool that affected approximately 130 organizations, including government agencies (although only publicly disclosed organizations were counted in the aggregation of this report). Additionally, an e-commerce management and outsourcing organization was also hacked, affecting numerous outsourcing clients.
The classification of hacking incidents in 2021 showed that 48% of hacking incidents were caused by vulnerabilities, which accounted for approximately half of all incidents. Among these organizations, those that were particularly affected were those operating e-commerce websites.
Ransomware accounted for the majority of malware infection incidents.
Damage dealt by ransomware continued to increase in the second half of 2021, with 39 malware infection incidents in 2021, of which ransomware accounted for the majority (32).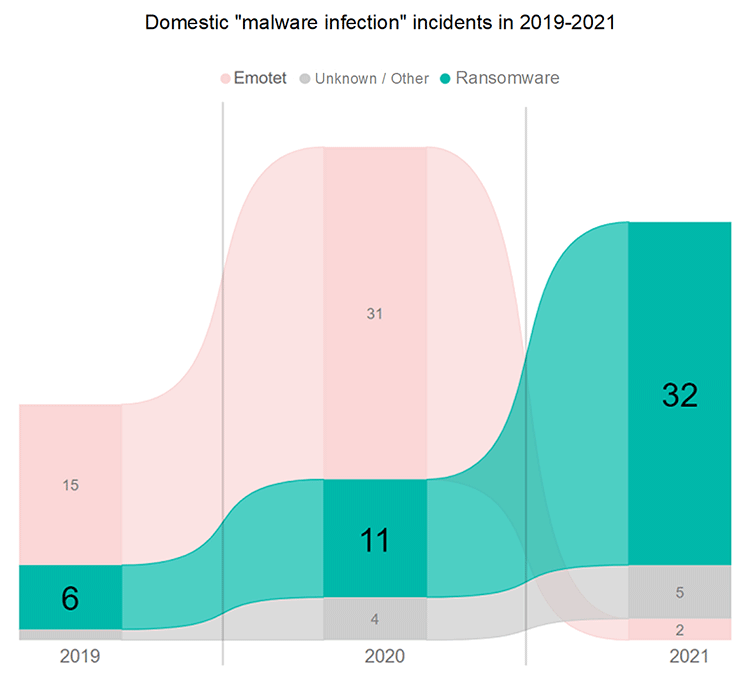 In October 2021, in a shocking and life-threatening incident, a public hospital in Tokushima Prefecture was infected with ransomware, rendering its electronic medical records unusable and halting the acceptance of new patients and the dispatch of EMS.
The infected ransomware is said to have been "LockBit 2.0." LockBit 2.0. is a "double-blackmail ransomware" that steals and encrypts data, and threatens to discloses the stolen data unless a ransom is paid. The affected hospital decided not to negotiate with the perpetrators and refused to pay.
However, the costs incurred were not insignificant. The hospital had to pay to build a new system, care for patients and staff after the incident, and handle a swath of paperwork. Although the route of the ransomware intrusion has not been disclosed, the hospital stated in an interview that it may have illegally accessed their network through a remote maintenance communication line.
In addition, "damage from ransomware" took the top spot for the second year in a row in the "organization" category in the report, 10 Major Information Security Threats 2022, released by the Information-technology Promotion Agency, Japan (IPA) in January 2022. Ransomware is a threat that we should all be wary of this year as well.
The number of Emotet incidents was five. Emotet was taken down at the end of January 2021, causing no new damage for some time. But it ultimately returned in November 2021. In Japan, Emotet became a serious issue around December of 2021 and reports were already being confirmed of organizations becoming infected with it. As of the time of writing, February 2022, Emotet has not quieted down. It is likely that there will be more incidents caused by Emotet in the future.
This figure is based on publicly disclosed incidents only; the actual number is likely to be much higher, and more security measures are needed.
It is important to note that the figures mentioned above are for incidents that have been publicly disclosed. Although an increasing number of organizations are disclosing information publicly, only a small percentage of organizations may be able to disclose security incidents. There is no doubt that there are many other organizations that have suffered or are currently suffering from hacking, malware, or other forms of damage and have yet to disclose it.
Although every organization has security measures in place, attackers use various means to circumvent these measures. More security measures in organizations will be a must in the future.
Security measures proposed by Digital Arts
i-FILTER Ver.10 and m-FILTER Ver.5's new standard of security measures - Whitelisting
With whitelisting, you can safely open all received e-mails and access the website you want to, reducing the management load on the IT department. ------ Digital Arts' "Whitelisting" will help bring about a more secure world.
FinalCode
FinalCode is the best file encryption and encryption software. Encrypting important files, tracking use, and allowing remote deletion, it is the ultimate file security software. Use FinalCode to prevent information leaks through file encryption.
Is ZIP file encryption (PPAP) ineffective? For countering external attacks such as Emotet and IcedID, use Digital Arts' ZIP Encryption Circumvention
ZIP encryption method (PPAP) has been customary for many Japanese companies and organizations when sending files by e-mail. However, it has been subject to various risks as the method of encryption is not designed to ensure security. We were the first to warn of and solve the risks of ZIP encryption.
https://www.daj.jp/bs/lp/zipencryption/
Click here for a report on domestic security incident aggregation for the past three years.
The following information is available on our corporate website.
Digital Arts Inc. Overview

Digital Arts Inc. is an information security solution provider focused on the development and sales of security software for web, e-mail, files and other uses.
Since its founding in 1995, the company philosophy has been "Contributing to a safer, better, more convenient internet lifestyle" and since developing web-filtering software to prevent the browsing of harmful information on the internet, the company has been promoting internet security products to companies, the public sector and homes everywhere.
Otemachi First Square, West Tower 14F, 1-5-1, Otemachi, Chiyoda-ku, Tokyo, Japan
URL: https://www.daj.jp/
* Digital Arts, DIGITAL ARTS, i-FILTER, info board, Active Rating System, D-SPA, NET FILTER, SP-Cache, White Web, ZBRAIN, Credential Protection, Whitelisting, m-FILTER, m-FILTER MailFilter, m-FILTER Archive, m-FILTER Anti-Spam, m-FILTER File Scan, Mail Detox, m-FILTER EdgeMTA, EdgeMTA, FinalCode, i-Filter, and DigitalArts@Cloud, Desk@Cloud, Desk, D-Alert, D-Contents and other names, logos, icons, designs, etc. related to Digital Arts and its products are registered trademarks of Digital Arts, Inc.
* Other corporate and product names are the trademarks of their respective companies.
---