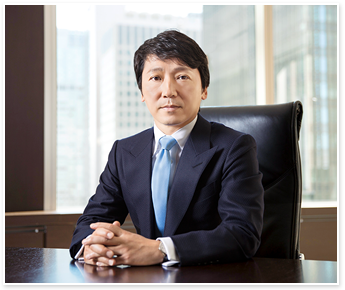 I would like to express my sincere appreciation for your loyal patronage.
Looking back on the last fiscal year, there have been many incidents which have reminded us of the importance of taking measures for information security throughout the year. We have entered the new fiscal year with renewed enthusiasm, committing ourselves to our mission to further contribute to the safety and security of the web, email, and files.
Since the foundation of the company, we have continually addressed internal security measures such as information scanning and protection within an organization by looking ahead toward the future of information security. We are currently focusing on providing security solution products for web, email and files as our core business.
Why is it necessary to take security measures for web, email and files?
Office workers spend most of their work hours searching for information on websites, sending emails, or creating documents. We resolved to take on as our mission securing web, email and files, creating product lineups for each.
In addition to investing in security measures against cyber-attacks coming from the outside in the past two years, the information security market in Japan has seen more and more companies and local governments strengthening their internal security measures due to the growing awareness of the need to protect sensitive information within an organization. Looking back at our business in the previous year, we saw a rapid increase in demand for i-FILTER, m-FILTER, D-SPA, and FinalCode in conjunction with the increase of market demands, which bolstered sales growth.
This fiscal year, we are focusing further on our sales activities for large enterprise. For the sales of our existing products, we believe it is important to provide consulting services for information security measures, and those services should be provided by professionals who are skilled at consulting on operational and IT strategies. This led us to establish a subsidiary which is dedicated to such consulting services.
This company will provide consulting services on information security by using our existing products based on the know-how and customer foundations that have been built at Digital Arts so far. Also, it will expand its business toward much wider consulting services on information security measures in general for large enterprise as well as engage in new services.
Digital Arts has been expanding our business overseas mainly with solutions aimed at preventing internal information leakage via web, email and files. Led by FinalCode Inc., in the United States, we established FinalCode Asia Pacific Pte. Ltd. for sales in the Asia and Pacific market, and FinalCode Europe Limited for the European market to commence business operations to meet the growing interest in file security on a global scale.
With a focus on sales growth for large enterprise on a global scale for this fiscal year, we will flexibly and vigorously cater to our customer demands in Japan and overseas by stressing the importance of taking measures against information leakage from inside the company. We will also put maximum effort into the development of next generation security products and services.
We will continue our advancement as a software maker which meets the requirements of the global information security market by looking ahead toward a future of improved information security.
Thank you very much for your continued support and encouragement.
April 1st, 2016

Toshio Dogu
Chief Executive Officer
Digital Arts Inc.