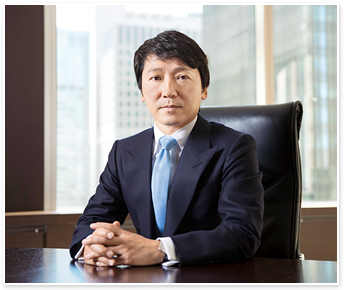 I would first like to express my deepest gratitude to our stakeholders-- we value your patronage and appreciate your confidence in us.
Based on our corporate philosophy of "Contributing to a more convenient, comfortable and safer Internet life", the Group focused on providing information security solutions to prevent information leaks from companies and organizations from its establishment and has continued to grow based on such principles.
In the security industry to which the Group belongs, targeted attacks aimed at specific companies / organizations and state organizations in Japan, as well as on a global scale, have continued to increase. Meanwhile, the utilization of IT in areas such as virtual currency, cloud computing, IoT, AI etc. is increasing, security measures / products that can cope with the diversification, advancement and sophisticated attacks are required. In addition, with the global events such as the 2019 Rugby World Cup and the 2020 Tokyo Olympic Games and the Paralympics in our country, we perceive the potential cyber-attacks to be conducted during these events.
In order to respond to these demands, the Mitsubishi Materials Group's mission as an Internet security company, in addition to "countermeasures against information leakage from companies and organizations" that has been our main business since its founding, In September 2017, we released "i-FILTER" Ver. 10, "m-FILTER" Ver. 5.
The market for countermeasures to prevent "information leakage from companies and organizations" is approximately 10 billion yen, of which we have acquired a market share of approximately 50% as a leading company in the market. We will acquire global market share in the "external target-type attack" countermeasure market that is said to be approximately 130 billion yen in the future and will make a significant leap forward to a comprehensive security measures solution company.
In addition, in order to foster organizational growth by fostering appropriate culture and values as a comprehensive security measures solution company, we have newly established the "Mission Statement".
We will continue to work together as a whole under the new "Mission Statement" in order to respond to the expectations of everyone, so we ask for your continued guidance and encouragement this year as well, And thank you for your continued support.
April 1st, 2018

Toshio Dogu
Representative Director, President and Chief Executive Officer
Digital Arts Inc.