Press Release
December 20, 2019
Digital Arts Inc.
The Guide to Implementing Measures Against Personal and Confidential Information Leaks, "Use it Right Now: FinalCode Simplified" Now On Sale

The guide lays out a method for companies and organizations to avoid being the next victims of information leaks that happen every day.
Information security solution provider Digital Arts Inc. (headquartered in Chiyoda-ku, Tokyo, Japan, CEO: Toshio Dogu, hereinafter, referred to as "Digital Arts," Code 2326) has announced the release of the book titled "Use it Right Now: FinalCode Simplified" (authored by Link Up, edited by Digital Arts, published by Gijutsu-Hyohron -CO.,Ltd.) The book is about the FinalCode file encryption and tracking software, which is developed and sold by Digital Arts and is available in bookstores and online in Japan from December 21, 2019.
In recent years, cases related to the personal and confidential information leakage at companies and organizational are increasingly being reported. For the groups, maintaining rules to govern the handling of important data is a matter of course, yet it is very critical for them to take measures like encrypting files on the system side. This is particularly important when sending classified files outside by e-mail. Also, it is essential to consider incidents in which some unauthorized person takes critical file(s) outside the company. In both cases, files can be tracked and set to be non-viewable and non-copiable, and they can also be remotely deleted. Here, the high level of file encryption security available with FinalCode shines.
As the need for high-level information leakage prevention increases at the companies and organizations, the "Use it Right Now: FinalCode Simplified" book is there to assist them to meet the demand of safeguarding their important data through file encryption. It outlines FinalCode and its features that provide high-level encryption, so administrators and users can quickly familiarize themselves with FinalCode configuration to make the most out of its highly capable file encryption functions.
Also, the book details FinalCode's other features that embrace comprehensive information leakage measures, like keeping logs of file access and browsing, issuing alerts on unauthorized file browsing, tracking sent files, and remotely deleting sent files. The book can help security officers in companies and organizations to save time in their implementation efforts and in the user education process for introducing FinalCode, so they can promptly encrypt files containing critical information and avoid the information leakage incident to occur.
Summary of "Use it Right Now: FinalCode Simplified"
The book consists of eight chapters (including appendix) of 47 sections with full-color illustrations. It is intended for those who want to implement a safe system of information management within companies and organizations. The book describes the basics of how to use FinalCode and highlights use cases. Users and administrators can learn the details of areas like restricting which files can be browsed and edited by predefined users and groups, the handling of encrypted files and of sent/distributed files, and many others.
About Gijutsu-Hyohron Co., Ltd. Publishing
https://gihyo.jp/book/2020/978-4-297-11089-5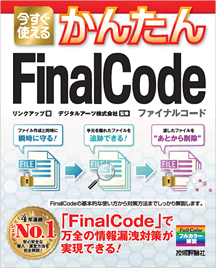 On sale December 21, 2019
B5 size / 192 pages / List price: ¥2380 + tax.
Table of Contents

Chapter 0 - FinalCode Introduction

Chapter 1 - Installing the FinalCode Client

Chapter 2 - Encrypting Files

Chapter 3 - Browsing Encrypted Files

Chapter 4 - Managing Encrypted Files

Chapter 5 -Using Encryption that Matches Usage Environment

Chapter 6 - Managing and Maintaining FinalCode

Appendix - Useful Features of FinalCode
Digital Arts aims to, through offering this book, spread FinalCode as a means for various companies and organizations to implement early measures against information leaks, cyber-attacks, and internal data leaks. We are introducing next-generation security measures to wholly protect informational assets and striving to support the active business expansion of our customers.
* DIGITAL ARTS, i-FILTER, info board, ARS, Active Rating System, ACTIVE RATING, ZBRAIN, D-SPA, SP-Cache, NET FILTER, White Web, m-FILTER, m-FILTER MailFilter, m-FILTER Archive, m-FILTER Anti-Spam, m-FILTER File Scan, Mail Detox, FinalCode, DigitalArts@Cloud, Chat@Cloud, D Alert, D Content, and related logos and icons are trademarks or registered trademarks of Digital Arts Inc.