Press Release
June 15, 2020
Digital Arts Inc.
"i-FILTER@Cloud™" GIGA School Edition Implemented by Wakayama City Board of Education as Emergency Measure for Online Learning Environment


Fosters Safe Two-Way Communication Between School and Home
Information security solution provider Digital Arts, Inc. announces that Wakayama City in Wakayama Prefecture, Japan (Mayor: Masahiro Obana) has adopted "i-FILTER@Cloud" as a security measure for online learning environment.
With many schools closed for extended periods of time to combat the spread of COVID-19, a serious problem has become how to protect and ensure students' educational enviroments. This is why now the ability to quickly implement an environment capable of online classes is being sought out.
With this being the case, Wakayama City announced on April 30 the disutribution of tablets to all public elementary and junior high school students in 2020 as an emergency COVID-19 related economic measure. The aim is to implement the Japanese Ministry of Education, Culture, Sports, Science and Technology's "GIGA School Plan" early. The plan aims to have one device for each student by the year 2023.
"Web Home Room" put together to offer two-way communication environment between school and home for third-year junior high school students preparing for high school entrance exams
With Wakayama City taking this kind of emergency measure, it was decided to prioritize third-year junior high school students preparing for high school entrance exams and distribute tablets the city already had in stock, and to lend mobile routers to houseolds that did not have Wi-Fi in place in order to ensure that online learning could be held as soon as possible.
In this case, a highly-valued feature was the "Web Home Room" feature that works like an online meeting. With it, faculty can check on students' health in the morning, share andconfirm the day's assignments, and then check students' progress on those assignments in the evening. This not only creates two-way communication between school and household, but also allows teachers and students totalk with each other while seeing each other's faces, giving faculty a chance to keep tabs on their students' overall health. Some schools have already begun holding online classes with this system.
"i-FILTER@Cloud" allows each household to use the internet safely and with peace of mind as soon as possible
To set up the emergency online learning environment includingWeb Home Room to maintain students' school performance and health, it is important to put in place security measures allowing safe, reliable connection to the internet when connecting devices from outside the school. Web security solution "i-FILTER@Cloud" GIGA School Edition is simple and quick to implement in a cloud environment, and includes filtering to limit access to potentially harmul information unrelated to studies, and to prevent external attacks targetting informational assets through the use of white lists. The faculty are able to set flexible filtering rules, allowing for special cases such as certain videos which would otherwise be blocked to be accessible for viewing in certain classes, adding a degree of freedom and the ability to develop for a flexible learning experience.
Comments from Yasuhiro Konishi of the Wakayama City Board of Education, Wakayama City Educational Research Institute
With schools being closed over extended periods to prevent the spread of COVID-19, we worried about a reduction in children's educational levels, and about their desire to study fading. A serious problem for us right now is how to preserve an educational environment for learning and studying. In Wakayama City, we put forward a plan to implement the "GIGA School Plan" to have networks in place and devices in all students hands by 2023, ahead of schedule in 2020 as an emergency measure for COVID-19. As part of that, we decided to give third-year junior high students priority and distribute devices that the city had to them. We also wanted to provide portable Wi-Fi routers to households without Wi-Fi connections. In doing this we chose Digital Arts' "i-FILTER@Cloud" for its ability to be quickly implemented to allow secure web access even in a cloud enviroment. Moving forward, we plan to provide tablets to all public elementary and junior high students in the city, and to ensure they will have a safe, secure online learning environment.
Digital Arts "i-FILTER" GIGA School Edition Special Line Up
White lists are used as both a measure against harmful information and against targeted attacks for a full-featured security solution.
Content designed to support educational institutions is provided for free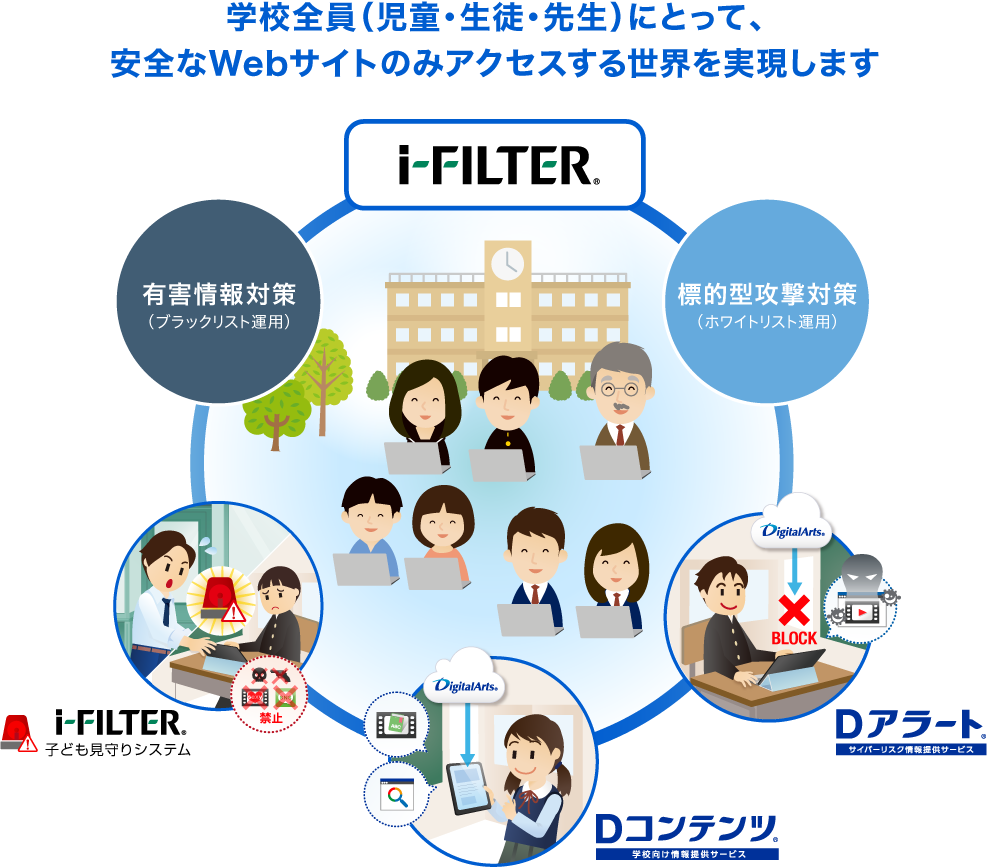 "i-FILTER Child Protection System"
If students attempt to access a suicide website or similar, "i-FILTER" has a function to block the attempt and send an e-mail alert to the designated faculty and/or alert device.
School information service "D-contents"
Educational applications and similar items that are frequently used by elementary, junior high and high schools across Japan are offered in a popularity ranking based on a URL information database.
Cyber risk information service "D-alert"
This service uses web security product "i-FILTER" to notify about malware infections and other information.
Digital Arts, Inc. Overview

Digital Arts, Inc. is an information security solution provider focused on the development and sales of security software for web, e-mail, files and others.
Since its founding in 1995 the company philosophy has been "Contributing to a safer, better, more convenient internet lifestyle" and since developing web filtering software to prevent the browsing of harmful information on the internet, the company has been promoting internet security products to companies, the public sector and homes everywhere.
https://www.daj.jp/
* DIGITAL ARTS, i-FILTER, info board, ARS, Active Rating System, ACTIVE RATING, ZBRAIN, D-SPA, SP-Cache, NET FILTER, White Web, m-FILTER, m-FILTER MailFilter, m-FILTER Archive, m-FILTER Anti-Spam, m-FILTER File Scan, Mail Detox, FinalCode, i-FILTER, DigitalArts@Cloud, Chat@Cloud, D-Alert, D-Contents, and related logos and icons are trademarks or registered trademarks of Digital Arts Inc.
* Other corporate and product names are the trademarks of their respective companies.