Press Release
September 1, 2020
Digital Arts Inc.
Cooperation between "i-FILTER®" and F5's "F5 SSL Orchestrator"


- Making Integration With SSL Visibility Appliance Possible with Both IN-LINE & ICAP Configurations -
Information security solution provider Digital Arts, Inc. (headquarters: Chiyoda-ku, Tokyo, Japan; CEO: Toshio Dogu; hereinafter referred to as "Digital Arts"; Code 2326) is pleased to announce that through its web security software "i-FILTER," which protects against external attacks and internal leaks, it is now possible to link the SSL Visibility Appliance "F5 SSL Orchestrator" by provider of programs and services for multi-cloud environments, F5 Networks Japan GK (location: Minato-ku, Tokyo, Japan; Representative: Yuichi Gonda; head office: Seattle, Washington, USA), with both IN-LINE & ICAP configurations.
With the spread of Always-On SSL, the visual control of SSL communication has become an urgent task
As cyber-attacks have diversified in recent years, Always-on SSL has become mainstream. Always-on SSL enables HTTPS (SSL) on not only important pages, such as login pages where users enter their IDs and passwords and pages where personal information is sent and received, but all pages, protecting them from web security threats. By encrypting all information on websites with Always-on SSL, it is possible to improve the credibility of websites and safety of communications.
However, encrypted SSL communications can be used as security loopholes for things such as illegal writing by employees and internal information leaks that cannot be detected by company administrators, such as uploading important company files to online storage services. As there is such a risk, in order to control web services, "visual control" through the decoding of SSL communications is necessary. Furthermore, in addition to the increasing risk of encountering threats hidden in SSL communications, Internet traffic is also increasing due to the increased use of cloud services.
Under such circumstances, Digital Arts currently offers an SSL decoding function in "i-FILTER." However, in order to more efficiently decode SSL communications to respond to the increase in traffic, in cooperation with F5's dedicated SSL Visibility Appliance, from "i-FILTER" Ver.10.41R01 released on August 20, 2020, we have made it so that "i-FILTER" will work with both IN-LINE & ICAP configurations.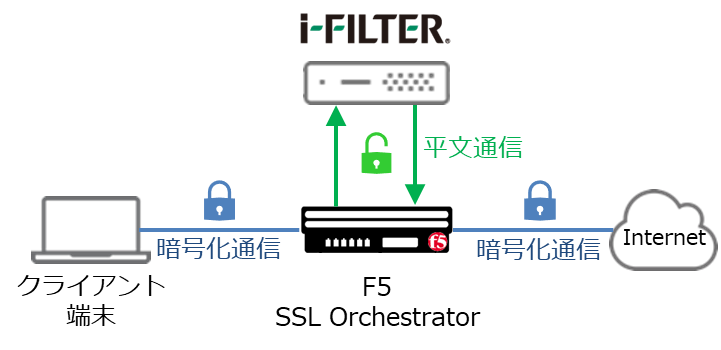 Operating requirements
i-FILTER
Ver.10.41R01 or later
F5 SSL Orchestrator
TMOS v14.1 or later
Regarding this collaboration, we will hold a webinar (sponsored by F5 Networks Japan GK) from 4 P.M. (JST) on Friday, September 18. Join via the URL below. We look forward to you attending.
https://mktg.daj.jp/public/seminar/view/2141
Digital Arts plans to continue to develop and provide countermeasures to targeted attacks, which are sure to become an increasing threat, more swiftly and in a wider range, and aim to improve product satisfaction for the realization of a safe and secure internet society.
Endorsement
In order to realize this current collaboration with F5's "F5 SSL Orchestrator," we have received the following endorsements from F5 Networks Japan GK and TechMatrix Corporation, F5 Networks' primary agent.
Yuichi Gonda - President and CEO of F5 Networks Japan GK
We sincerely welcome this collaboration between Digital Arts' "i-FILTER®" and our company's "F5 SSL Orchestrator." Going forward, we will continue to promote the collaboration between our two companies, and work to support a variety of forms of customer operations, including collaboration with cloud services such as "i-FILTER@Cloud."
Takashi Yuri - President and CEO of TechMatrix Corporation
We sincerely welcome this collaboration between Digital Arts' "i-FILTER®" and F5 Networks Japan GK's "F5 SSL Orchestrator." Through this collaboration, we will do our best to work together with Digital Arts so that more customers can use the internet safely and securely.
About F5 Networks
F5 Networks provides cloud and security programs and services so that the world's leading companies, service providers, governments and consumer brands can use any of their programs wherever they want with securily, freely and with peace of mind. Customers are free to adopt their infrastructure without sacrificing speed or manageability.
Digital Arts, Inc. Overview

Digital Arts, Inc. is an information security solution provider focused on the development and sales of security software for web, e-mail, files and others.
Since its founding in 1995 the company philosophy has been "Contributing to a safer, better, more convenient internet lifestyle" and since developing web filtering software to prevent the browsing of harmful information on the internet, the company has been promoting internet security products to companies, the public sector and homes everywhere.
https://www.daj.jp/
* DIGITAL ARTS, i-FILTER, info board, ARS, Active Rating System, ACTIVE RATING, ZBRAIN, D-SPA, SP-Cache, NET FILTER, White Web, m-FILTER, m-FILTER MailFilter, m-FILTER Archive, m-FILTER Anti-Spam, m-FILTER File Scan, Mail Detox, FinalCode, i-FILTER, DigitalArts@Cloud, Chat@Cloud, D Alert, D Content, and related logos and icons are trademarks or registered trademarks of Digital Arts Inc. FinalCode is a registered trademark of FinalCode, Inc.
* Other corporate and product names are the trademarks of their respective companies.