Press Release
September 30, 2020
Digital Arts Inc.
A Domestic Communication Tool With Built-in Stable Security Features

- The Chat/Web conferencing System "Desk@Cloud" - Now Available -
Information security solutions provider Digital Arts Inc. (headquarters: Chiyoda-ku, Tokyo, Japan; CEO: Toshio Dogu; hereinafter referred to as "Digital Arts"; Code 2326) is pleased to announce that its 100% Japanese made chat/web conferencing system "Desk@Cloud" will be available from October 1st.
Accelerating communication in secure environments with the launch of an in-house developed communication tool
In order to prevent the spread of COVID-19, we here at Digital Arts have primarily been working from home since April asto ensure the safety of both our customers and employees. Under these circumstances, an important issue that arose was "preventing the breakdown of internal communications" while simultaneously working to improve the quality of our products and services and maintaining employee health. At the same time, there was a growing desire to develop in-house tools that support operational efficiency through the balancing of security measures and the invigoration of business communication. For this reason, we decided to equip our ancillary business chat product "Chat@Cloud" with a fully-fledged web conferencing system and begin offering it under the name "Desk@Cloud" as a tool for easy communication inside and outside the company.
"Desk@Cloud" is a tool that allows you to easily and frequently carry out internal and external communications in a near face-to-face way. "Desk@Cloud" has a variety of text chat functions and has been designed to allow you to effortlessly hold web conferences, making everything from simple conversations within your company to making quick decisions possible. The name "Desk@Cloud" was derived from the idea that your PC/smartphone can be used as a work desk anytime, anywhere.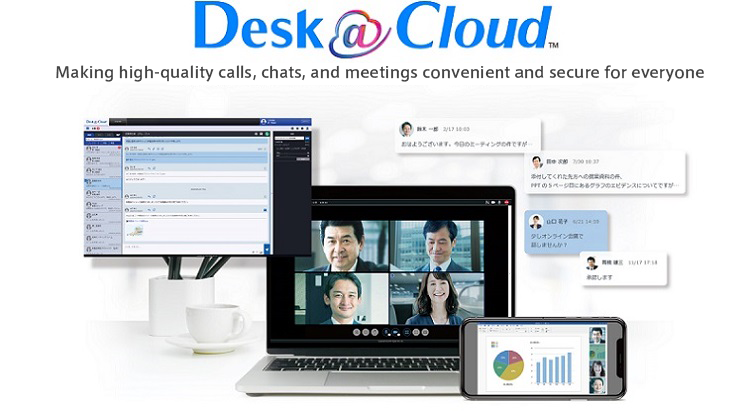 Providing an array of text chats and web conferences in a secure environment with a simple UI
There is no point in implementing a chat/web conferencing system unless employees are able to communicate effortlessly and quickly. In addition to equipping it with various functions essential for communication, we have strived to offer a simple and easy-to-understand UI that allows anyone to use "Desk@Cloud" effortlessly. However, when consolidating internal and external communication into a chat/web conferencing system, there is also the need to ensure a high level of security. From the perspective of a security provider, by including features that provide customers with dedicated domains that make it harder for them to be the targets of attacks and that prevent erroneous e-mail which could have previously occurred through email exchanges, we have been able to provide a more secure web conferencing system.
"Desk@Cloud" is a flexible system that supports a wide range of customers, from small and medium-sized enterprises that want to quickly and effortlessly begin using it with a small number of people to government offices and educational institutes that require more secure environments.
Examples of challenges when implementing a web conferencing system
Difficult to implement and manage as there are few people in charge of the information system department

There is a desire to implement a tool that makes it easy to communicate online

There is a desire to allow users with little computer literacy to easily use the system

There is a slight anxiety around the security of the web conferencing system

Need a simple web conferencing system that is secure and easy for anyone to use
"Desk@Cloud" Function Merits
Begin using with a simple user registration

Users can begin using "Desk@Cloud" simply by getting registered as a user by an administrator. User registration can be done not only manually, but also by importing CSV files and linking them with Active Directory and Azure AD.

From one-on-one communication to web conferences of up to 50 people *1

"Desk@Cloud" has all the features you need for meetings, including desktop and file sharing, a "whiteboard," virtual backgrounds and background blurring. It can also be used as a substitute for a phone by connecting only with audio and no video.

Simple UI, various text chats and instant transitions to web conferences

A variety of functions, such as marking messages read/unread and searching messages, are available through simple controls. Everything from one-on-one chats to group chats can be easily set up, and web conferences can be immediately started from rooms.

Building a secure environment

Enhanced security features that meet customer's needs

"Desk@Cloud" is equipped with an erroneous e-mail prevention function that allows users to group internal and external users into tabs and delete messages and shared files later. In addition, as environments are constructed on each customers' own platform, they can be used in a safe and high-quality environment that isn't affected by other users. It is also possible to limit the IP addresses that can be accessed in line with customers' security policies.

Linking with our file security products simultaneously realizes strong security measures

By linking with our file security solution "FinalCode," uploaded files are automatically encrypted to prevent the information leaking in the event of a leak *2.

On PC, business negotiations can easily be carried with the guest user function that does not require any apps or programs.

Guest users can be easily invited to a meeting simply by registering their email address, and as "Desk@Cloud" can be used in-browser on computers, there is no need to download any apps or programs, allowing business negotiations with people outside the company to be done without hassle.
Enhanced security with erroneous e-mail prevention features, building independent domain environments and more

Use a variety of text chat functions with simple controls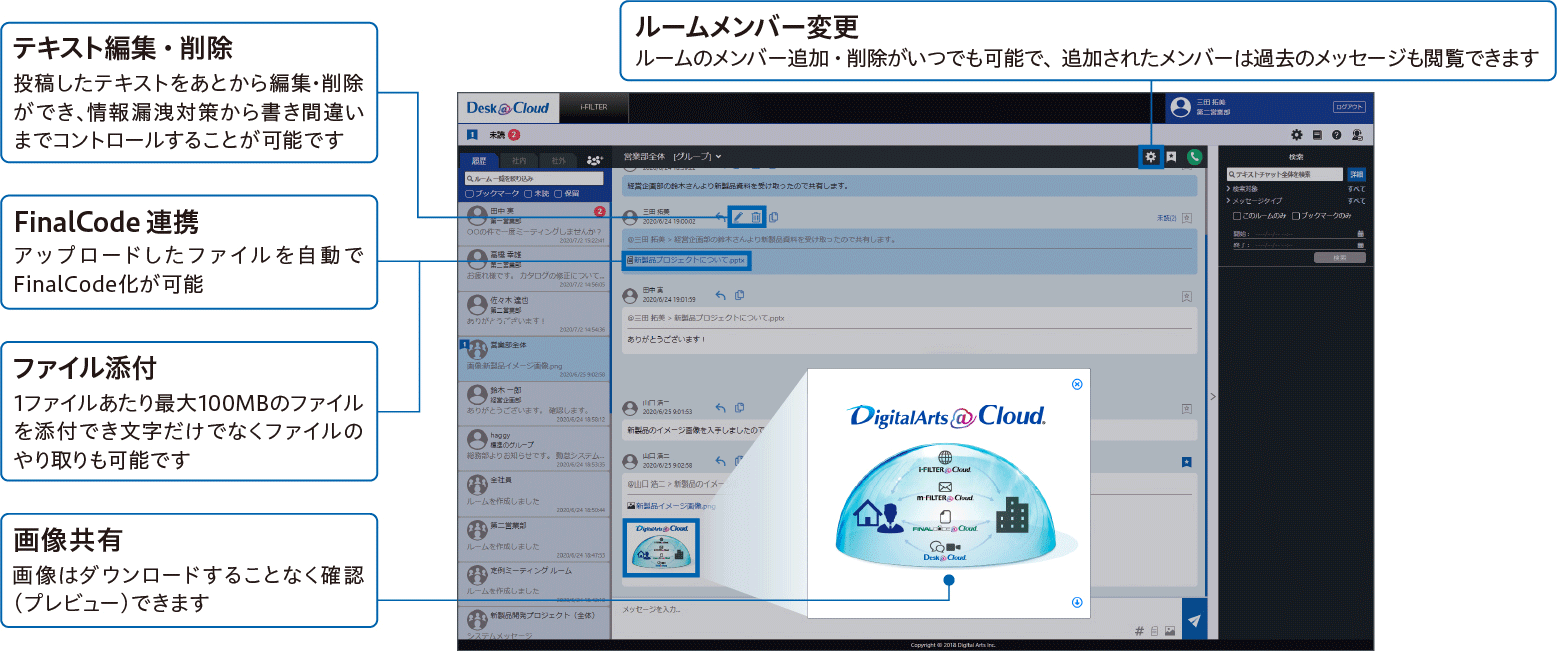 Web conferences can be started immediately from text chats and materials can be shared smoothly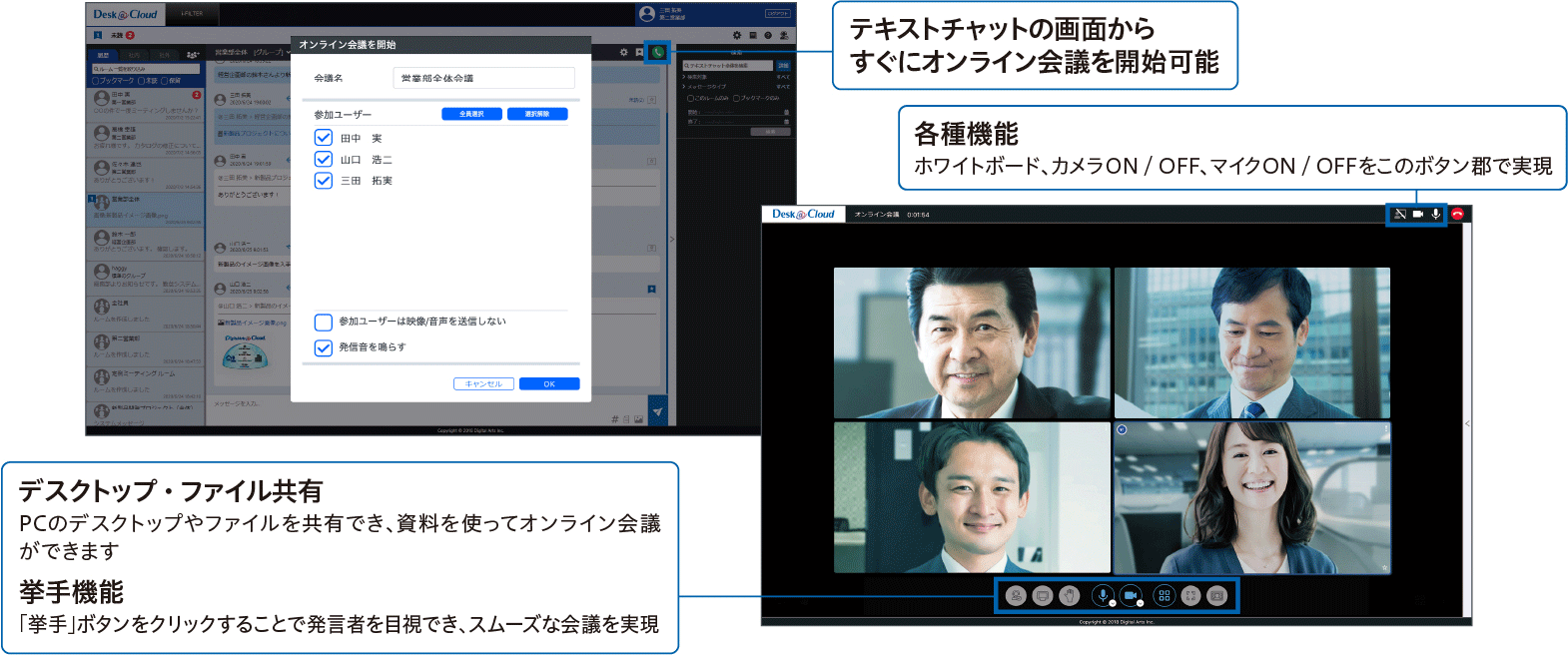 Web conferences and business chat functions at an affordable price
Price: 500 yen(excluding tax)/single user/month *Price when purchasing annual contract
Details
Digital Arts, Inc. Overview

Digital Arts, Inc. is an information security solution provider focused on the development and sales of security software for web, e-mail, files and others.
Since its founding in 1995 the company philosophy has been "Contributing to a safer, better, more convenient internet lifestyle" and since developing web filtering software to prevent the browsing of harmful information on the internet, the company has been promoting internet security products to companies, the public sector and homes everywhere.
https://www.daj.jp/
* DIGITAL ARTS, i-FILTER, info board, ARS, Active Rating System, ACTIVE RATING, ZBRAIN, D-SPA, SP-Cache, NET FILTER, White Web, m-FILTER, m-FILTER MailFilter, m-FILTER Archive, m-FILTER Anti-Spam, m-FILTER File Scan, Mail Detox, FinalCode, i-FILTER, DigitalArts@Cloud, Desk@Cloud, D Alert, D Content, and related logos and icons are trademarks or registered trademarks of Digital Arts Inc. FinalCode is a registered trademark of FinalCode, Inc.
* Other corporate and product names are the trademarks of their respective companies.