Press Release
February 3, 2021
Digital Arts Inc.
File Security Product "FinalCode" Provided Free to Local Governments and Medical Institutions

- Supporting the safe and secure handling of information by those engaged in the fight against COVID-19 and in close contact with infected patients -
Information security solution provider Digital Arts, Inc. (headquarters: Chiyoda-ku, Tokyo, Japan; CEO: Toshio Dogu; Securities Code 2326) is pleased to announce that it will be offering the file encryption/tracking solution FinalCode free of charge from February 3, 2021, until the end of the COVID-19 pandemic to help fight the spread of the virus and accompanying incidents of information leakages.
With the spread of COVID-19, there has been a series of incidents in which the personal information of individuals who have tested positive and patients has been leaked while local governments, health centers, and medical institutions were engaged in response and treatment. In addition, taking advantage of this global turmoil, cyberattacks have increased rapidly in Japan over the past year. There have even been cases where not only local governments but also medical institutions have been targeted. In order to prevent attacks that exploit institutions vulnerable in terms of both resources and systems-such as local governments, health centers and medical institutions that have been saddled with a large burden due to the rapid spread of infections-a security system that reliably protects information without further burdening the staff has become more crucial than ever.
In response to this situation, Digital Arts has decided to offer our file encryption/tracking solution FinalCode free of charge to provide a measure against information leakage that does not burden the operations of local governments, public health centers and medical institutions.
FinalCode is a file encryption/tracking solution (file encryption software). As it enables access to individual files to be restricted to only specified users and groups, even if access-restricted files containing personal information are leaked, the information contained within that file will not be. In addition, permissions can be changed, and files can be deleted remotely at any time, enabling files to be managed even after they have been sent. By installing the client program, the service can be used immediately. File encryptions and permission settings can also be done with ease. We support the security systems of everyone who is struggling in the fight against COVID-19 and hope to offer safety and security to patients.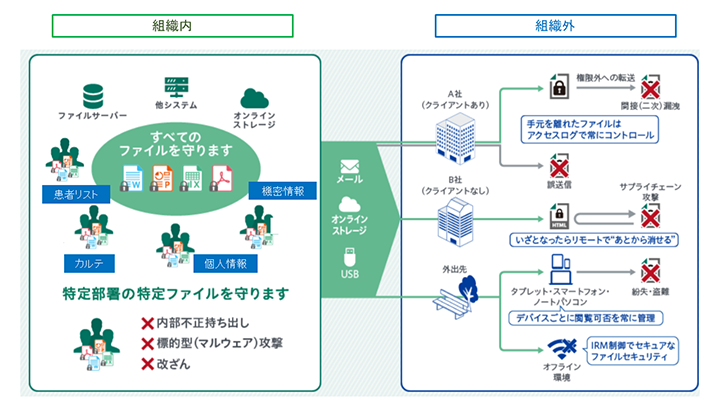 FinalCode Free Offer Overview Details
Applicable products

FinalCode is a file encryption/tracking solution (file encryption software).

Applicable institutions

Institutions that can use FinalCode: Local governments nationwide, health centers, medical institutions, and accommodation facilities such as hotels. (However, this offer is limited to those wishing to use FinalCode for the purpose of countering COVID-19.)

Free offer period:

February 3, 2021 - the end of the pandemic
* We will determine the end date in accordance with the COVID-19 situation. We will contact you before the end of the free offer period. There is no automatic transition to paid services.

Application acceptance period

February 3, 2021 - March 31, 2021
* This period may be extended depending on the situation regarding COVID-19.

How to apply

Please apply below.
After completing the application, we will show you how to use the service.
* Applicable institutions are limited to corporations that are applying for FinalCode for the first time within the period outlined in "4. Application acceptance period." In addition, we will examine the reasons for use, and other factors. Please note that depending on the provided details, we may refuse or suspend the free provision at our discretion.
* The applicable institutions for this free offer, the free offer period, the scope of the free offer and the content of the offer are subject to change without notice.
* This free offer may be canceled without notice.
File security product FinalCode
* In order to use FinalCode, it is necessary to agree to the FinalCode Terms of Use.
* FinalCode might not be available depending on the user's system specifications or internet connection.
* The version of FinalCode provided in this free offer will be a trial version as defined in the FinalCode Terms of Use.
Digital Arts Inc. Overview

Digital Arts Inc. is an information security solution provider focused on the development and sales of security software for web, e-mail, files and other uses.
Since its founding in 1995, the company philosophy has been "Contributing to a safer, better, more convenient internet lifestyle" and since developing web-filtering software to prevent the browsing of harmful information on the internet, the company has been promoting internet security products to companies, the public sector and homes everywhere.
https://www.daj.jp/
* DIGITAL ARTS, i-FILTER, info board, ARS, Active Rating System, ACTIVE RATING, ZBRAIN, D-SPA, SP-Cache, NET FILTER, White Web, m-FILTER, m-FILTER MailFilter, m-FILTER Archive, m-FILTER Anti-Spam, m-FILTER File Scan, Mail Detox, FinalCode, i-FILTER, DigitalArts@Cloud, Desk@Cloud, D Alert, D Content, and related logos and icons are trademarks or registered trademarks of Digital Arts Inc.
* Other corporate and product names are the trademarks of their respective companies.