Press Release
February 5, 2021
Digital Arts Inc.
Takamatsu City, Kagawa Prefecture Adopts "i-FILTER@Cloud" for the Giga School Program's One Device per Student Initiative
Information security solutions provider Digital Arts, Inc. (headquarters: Chiyoda-ku, Tokyo, Japan; CEO: Toshio Dogu; Securities Code 2326) is pleased to announce that the Takamatsu City Board of Education in Kagawa Prefecture (Superintendent: Yasuo Fujimoto) has adopted Digital Arts' web security cloud service i-FILTER@Cloud GIGA School Edition in order to respond to the GIGA School Program's one device per student initiative.
Takamatsu City has established a plan called the 1st Takamatsu City ICT Education Promotion Plan, which will run for the six years between 2018 and 2023, and is working to improve classes to include more active learning and is enhancing learning activities using technologies such as tablets. Based on the GIGA School Program, which has been advancing ahead of schedule due to the COVID-19 pandemic, a total of around 34,000 Windows devices aimed at students in elementary and junior high schools throughout the city are planned to be installed. As security for the devices, i-FILTER@Cloud GIGA School Version has been adopted.
i-FILTER@Cloud has strong security features in the form of "whitelisting," which prevents external attacks such as targeted attacks, and filtering that restricts the viewing of harmful information unrelated to learning. By using templates that enable filter categories to be easily set according to students' ages, such as elementary/junior high school, and offering the ability to flexibly set filtering rules that allow the viewing exclusively of educational YouTube videos, i-FILTER@Cloud GIGA School Version enables safe and secure access to the web that's suitable for learning.
Additionally, with features that promptly detect when a student is feeling anxious or in serious danger-such as internet usage time limits that prevent using devices for private purposes and the i-FILTER Child Protection System that sends notifications when keywords such as "suicide" or "running away from home" are searched-i-FILTER@Cloud GIGA School Version makes it possible to protect students even outside of school hours.
The optional feature i-FILTER Info Board, which enables schools to create a notification page that can be displayed on web browsers at specified times to efficiently share information, makes it possible to quickly notify students of important information such as school closures.
In the future, we plan to utilize the above features for safe and efficient off-site learning and to realize the faster sharing of information.
Digital Arts i-FILTER GIGA School Edition Special Lineup
Utilizing measures against harmful information + targeted attacks, whitelist forms a solid security measure

Offering content that support educational institutions, free of charge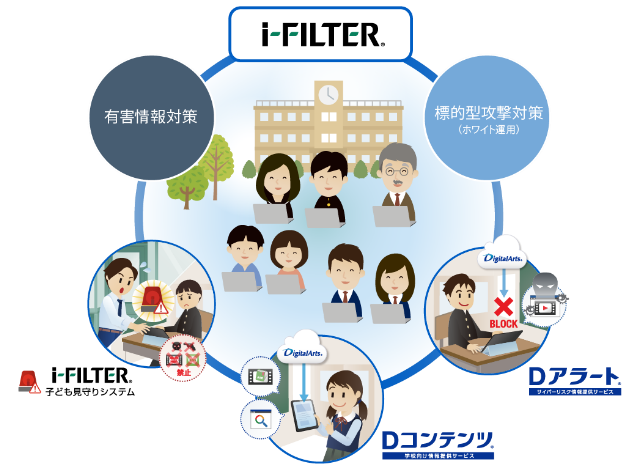 i-FILTER Child Protection System

If students attempt to access websites with information about suicide or similar, i-FILTER will block the attempt and send an e-mail alert to the designated faculty and/or alert device.

School Information Service D-Contents

Educational applications and similar items that are frequently used by elementary, junior high and high schools across Japan are offered in a popularity ranking based on a URL information database.

Cyber risk information service D-Alert

This service uses the web security product i-FILTER to notify users about malware infections and other information.
Digital Arts Inc. Overview

Digital Arts Inc. is an information security solution provider focused on the development and sales of security software for web, e-mail, files and other uses.
Since its founding in 1995, the company philosophy has been "Contributing to a safer, better, more convenient internet lifestyle" and since developing web-filtering software to prevent the browsing of harmful information on the internet, the company has been promoting internet security products to companies, the public sector and homes everywhere.
https://www.daj.jp/
* DIGITAL ARTS, i-FILTER, info board, ARS, Active Rating System, ACTIVE RATING, ZBRAIN, D-SPA, SP-Cache, NET FILTER, White Web, m-FILTER, m-FILTER MailFilter, m-FILTER Archive, m-FILTER Anti-Spam, m-FILTER File Scan, Mail Detox, FinalCode, i-FILTER, DigitalArts@Cloud, Desk@Cloud, D Alert, D Content, and related logos and icons are trademarks or registered trademarks of Digital Arts Inc.
* Other corporate and product names are the trademarks of their respective companies.