Press Release
March 10, 2021
Digital Arts Inc.
Shimonita, Gunma Prefecture adopts "i-FILTER@Cloud" in response to the GIGA School Program

– Usage time restrictions and flexible filtering options for individual URLs pave the way for a smooth off-site learning experience –
Information security solutions provider Digital Arts Inc. (headquarters: Chiyoda-ku, Tokyo, Japan; CEO: Toshio Dogu; Securities Code 2326) is pleased to announce that the Shimonita Board of Education in Gunma Prefecture (Superintendent: Manabu Moteki) has adopted Digital Arts' web security cloud service "i-FILTER@Cloud" GIGA School Edition in order to respond to the GIGA School Program's one device per student initiative.
Aiming to improve lessons by incorporating "proactive, interactive and authentic learning," Shimonita has focused its efforts on integrating programming education into its curriculum and improving ICT environments at schools. Based on the GIGA School Program, which has been advancing ahead of schedule due to the COVID-19 pandemic, Chromebooks were quickly introduced to the town's junior high schools as learning devices for the students. As security for the devices, "i-FILTER@Cloud" GIGA School Edition has been adopted.
Shimonita emphasized the presence of a flexible filter that would allow access to educational websites while blocking threatening or harmful websites—ensuring the safe and proactive off-site learning for students—and usage time restrictions that would ensure students weren't using devices at inappropriate times or for personal use.
"i-FILTER@Cloud" has a strong URL filtering feature in the form of "whitelisting," which lead to only safe URLs by preventing access to malicious URLs that lead to targeted attacks that steal information. It also restricts the viewing of harmful information unrelated to learning. In order to reduce the burden on teachers, we have prepared filter templates that correspond to school grades, giving teachers simple settings options such as the optimum preset for junior high school students. As access permissions for each individual website and URL can be set, flexible filter rules can be set. For example, YouTube videos required for learning can be permitted on a channel or content basis.
Additionally, off-site learning is made safe by implementing internet usage time restrictions that prevent personal use of devices. "i-FILTER@Cloud" also has various features that support teachers. There is a feature that promptly detects when a student is feeling anxious or in serious danger. The "i-FILTER Child Protection System" sends notifications to teachers when keywords such as "suicide" or "running away from home" are searched. The in-browser "Test Board function" that asks students questions on a regular basis can also be used to teach computer literacy.
Comment from Mr. Nobuyasu Sato, School Education Section, Education Division, Shimonita, Gunma Prefecture:
We thought it neccessary in Shimonita to utilize a filter that would only allow access to educational and secure websites so that teachers and parents could rest assured that students were engaging in safe off-site learning as we moved to arrange one device for every junior high school student. "i-FILTER@Cloud" can only access websites that Digital Arts has confirmed to be safe. Also, since access permissions can be set for each URL, it's possible to preserve web access required for learning. We also like that we can set access permissions for YouTube videos required for learning on a channel and content basis. We also feel that dividing up devices' set usage time restrictions helps preserve the rhythm of students' lives and lessens the anxiety of parents.
Looking towards the future, we hope by allowing students to freely use their devices as output tools to aid in their learning, we will be able to enable them to achieve the goal of "proactive, interactive and authentic learning" that we as a town are aiming for by themselves. To that end, we would like to create an environment that ensures secure web access and an environment that can be used as freely as possible so that students can make mistakes with peace of mind. With "i-FILTER@Cloud", we hope that all teachers will be able to use technology to carry out the lessons they want to, and further develop students' ability to utilize information and increase their motivation.
Digital Arts "i-FILTER" GIGA School Edition Special Lineup
Utilizing measures against harmful information + targeted attacks, whitelist forms a solid security measure

Offering content that support educational institutions, free of charge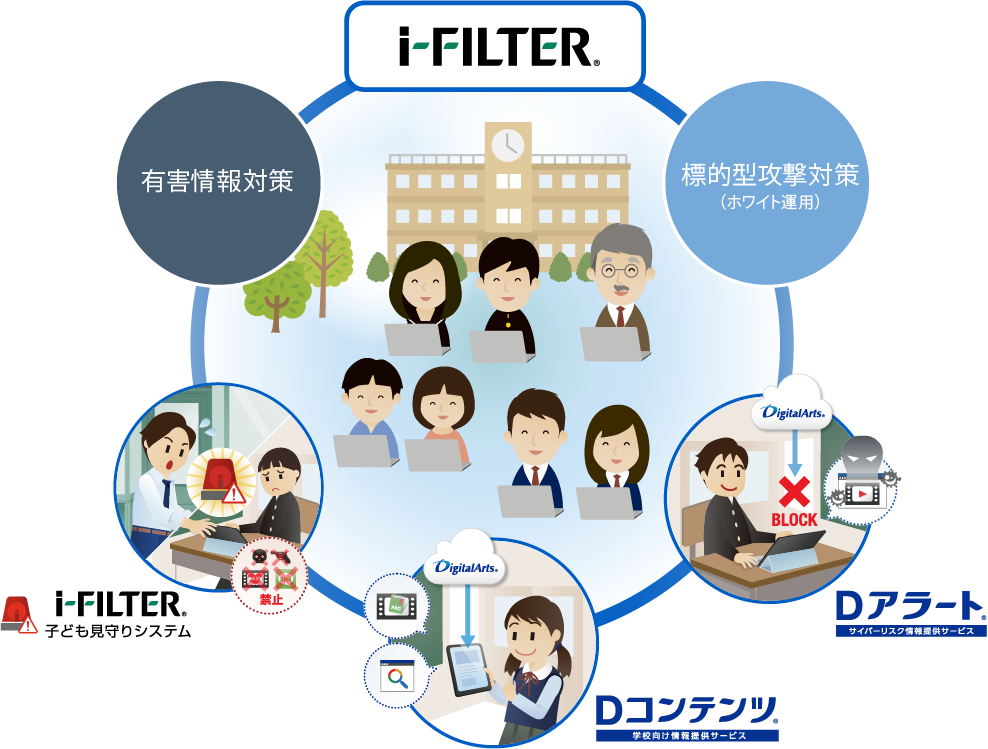 i-FILTER Child Protection System

If students attempt to access websites with information about suicide or similar, i-FILTER will block the attempt and send an e-mail alert to the designated faculty and/or alert device.

School Information Service D-Contents

Educational applications and similar items that are frequently used by elementary, junior high and high schools across Japan are offered in a popularity ranking based on a URL information database.

Cyber risk information service D-Alert

This service uses the web security product "i-FILTER" to notify users about malware infections and other information.
Download our catalog below:
Digital Arts Inc. Overview

Digital Arts Inc. is an information security solution provider focused on the development and sales of security software for web, e-mail, files and other uses.
Since its founding in 1995, the company philosophy has been "Contributing to a safer, better, more convenient internet lifestyle" and since developing web-filtering software to prevent the browsing of harmful information on the internet, the company has been promoting internet security products to companies, the public sector and homes everywhere.
https://www.daj.jp/
* DIGITAL ARTS, i-FILTER, info board, ARS, Active Rating System, ACTIVE RATING, ZBRAIN, D-SPA, SP-Cache, NET FILTER, White Web, m-FILTER, m-FILTER MailFilter, m-FILTER Archive, m-FILTER Anti-Spam, m-FILTER File Scan, Mail Detox, FinalCode, i-FILTER, DigitalArts@Cloud, Desk@Cloud, D Alert, D Content, and related logos and icons are trademarks or registered trademarks of Digital Arts Inc.
* Other corporate and product names are the trademarks of their respective companies.