Press Release
May 17, 2021
Digital Arts Inc.
Hokkaido Government Office adopts the ZIP Encryption Circumvention software m-FILTER and FinalCode

– Strengthen local government email security measures with secure file transmission operation instead of PPAP –
Information security solutions provider Digital Arts, Inc. (headquarters: Chiyoda-ku, Tokyo, Japan; CEO: Toshio Dogu; Securities Code 2326) is pleased to announce that the Hokkaido Government Office (Chuo-ku, Sapporo, Governor: Naomichi Suzuki) will be adopting our email security products equipped with ZIP Encryption Circumvention, m-FILTER Ver. 5 and FinalCode@Cloud to strengthening email security measures.
The method of sending an encrypted ZIP file by email and then sending the password in a separate email (known as "PPAP" in Japan) has always been the standard way of doing things in Japan. However, as security issues—such as file disclosures occuring when incorrect email destinations are entered, as well as the increase in cyberattacks that target encrypted ZIP files by circumnavigating antivirus software—the number of organizations reviewing their email methods has increased. For these reasons, we are offering the ability to link the email security product m-FILTER Ver. 5 and the file security product FinalCode Ver. 6.
The Hokkaido Government Office has adopted this linking function as a security measure whenever it sends an email attachment. Aiming to realize β'model* under the Guidelines for Information Security Policies in Local Government announced by the Ministry of Internal Affairs and Communications in December 2020, the Hokkaido Government Office is planning on migrating some of its devices, which were previously only on the Local Government Wide Area Network, to the internet in FY2021. With the transition to the β'model, it is expected that more email than ever will be handled by internet-enabled devices. However, with the PPAP system used until now, there lies a security issue in the fact that files cannot be controlled after sending them. Therefore, while taking into consideration security measures to replace PPAP while utilizing the currently in use m-FILTER, the ZIP Encryption Circumvention of m-FILTER and FinalCode has been adopted.
Automatic encryption of email attachments enables secure and efficient transmission of local government files
When you send an email with a file attached to devices connected to the internet, FinalCode automatically encrypts the file and sends it as a file that can be viewed on a browser. For external parties who do not have a client module, we plan to encrypt all files into a browser view file that can be viewed in browsers. With these products, operating privileges can be limited so that only specific people can view or save files. This makes it possible to securely send files regardless of whether the sender is inside or outside an organization.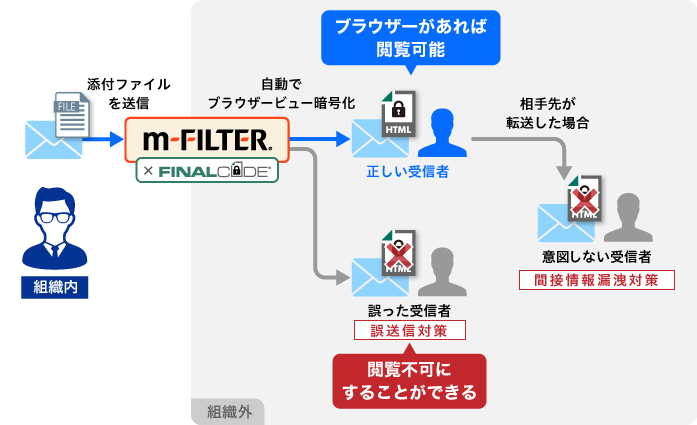 * The β'model is a local government information system resilience model newly presented in the Ministry of Internal Affairs and Communications Guidelines for Information Security Policies in Local Government (December 2020 edition) revised on December 28, 2020. In contrast to the β model, where main business devices are connected to the internet and important information assets such as bid information and staff information are stored on LGWAN systems, both business devices and systems storing sensitive information assets are connected to the internet. The β'model is suitable for efficient work and future remote work demand, but it requires stringent measures be taken against the leaking of confidential information.
(Reference) Guidelines for Information Security Policies in Local Government (December 2020 edition)
Digital Arts ZIP Encryption Circumvention m-FILTER x FinalCode
Digital Arts, Inc. Overview

Digital Arts, Inc. is an information security solution provider focused on the development and sales of security software for web, e-mail, files and others.
Since its founding in 1995 the company philosophy has been "Contributing to a safer, better, more convenient internet lifestyle" and since developing web filtering software to prevent the browsing of harmful information on the internet, the company has been promoting internet security products to companies, the public sector and homes everywhere.
https://www.daj.jp/
* DIGITAL ARTS, i-FILTER, info board, ARS, Active Rating System, ACTIVE RATING, ZBRAIN, D-SPA, SP-Cache, NET FILTER, White Web, m-FILTER, m-FILTER MailFilter, m-FILTER Archive, m-FILTER Anti-Spam, m-FILTER File Scan, Mail Detox, FinalCode, i-FILTER, DigitalArts@Cloud, Desk@Cloud, D Alert, D Content, and related logos and icons are trademarks or registered trademarks of Digital Arts Inc.
* Other corporate and product names are the trademarks of their respective companies.