Press Release
July 12, 2021
Digital Arts, Inc.
Job experience for junior high school students in Settsu City to think up usage rules for learning devices

- Digital Arts to participate in Settsu City Board of Education career education program to better understand ICT education from users' perspectives -
Information security solutions provider Digital Arts Inc. (headquarters: Chiyoda-ku, Tokyo, Japan; CEO: Toshio Dogu; hereinafter referred to as "Digital Arts"; Code 2326) will participate in a job experience program held by the Settsu City Board of Education in Osaka Prefecture (Superintendent : Tomoya Hashiodani, hereinafter referred to as "Settsu City"), and conduct classes for second-year students at two public junior high schools where students will think about usage rules for learning devices.
The program is a part of Settsu City's larger career education program. Its aim is to help students learn about corporate issues and corporate efforts, and to help them think about their future lives by working as teams to solve problems. Seventeen companies are scheduled to participate, with each company offering different lessons at junior high schools.
Digital Arts is participating in this initiative by offering online classes on creating rules for learning devices for second year students at Settsu Daini Junior High School and Settsu Daiyon Junior High School (several groups from each school) for three days between now and December. Settsu City has been active in the use of ICT for a long time, and was one of the first cities to introduce and begin using devices as part of the Ministry of Education, Culture, Sports, Science and Technology's "GIGA School Program." With this in mind, we decided to work with students in the city to come up with rules for the safe and comfortable use of learning devices.
Thinking up rules for safe and comfortable use of devices from students' perspective.
On the first day in July, students will learn about "Internet security," a social issue for Digital Arts, and "Internet Dangers," such as personal information leaks from videos and social media posts-two things students should be familiar with-and receive firsthand experience with the necessity for rule making and filtering. In groups, students will work on the topics of "The light (convenient and fun) and dark (dangers and terrors) aspects of the internet" to think up usage rules (moral aspects and filtering settings) for learning devices. Students will then compile and present their opinions in a mid-term presentation in September/October. At the final presentation in November/December, Digital Arts will select the best work. We plan to feature the students' works on the Digital Arts website.
Learning devices have been installed in all the boards of education and schools in Japan, and will be fully utilized from here on. In this case, especially for off-site learning, we need to create an environment and rules that allow students to engage in learning in a convenient and enjoyable way, while avoiding overuse and dangerous encounters.
Through this endeavor, Digital Arts hopes to help students think positively about their own futures, explore better ways to use learning devices for students and schools, and contribute to the further development of ICT education.
Job Experience Program for 2nd Year Junior High School Students in Settsu City Overview
Target
Settsu Daini Junior High School, Settsu Municipal Daiyon Junior High School (one class per school)
Topic
Thinking up usage rules for learning devices

Dates
Day 1: July 13 (Tues) (Settsu Daiyon Junior High School)/July 16 (Fri) (Settsu Daini Junior High School)
Day 2: September - October (both schools)
Day 3: November - December (both schools)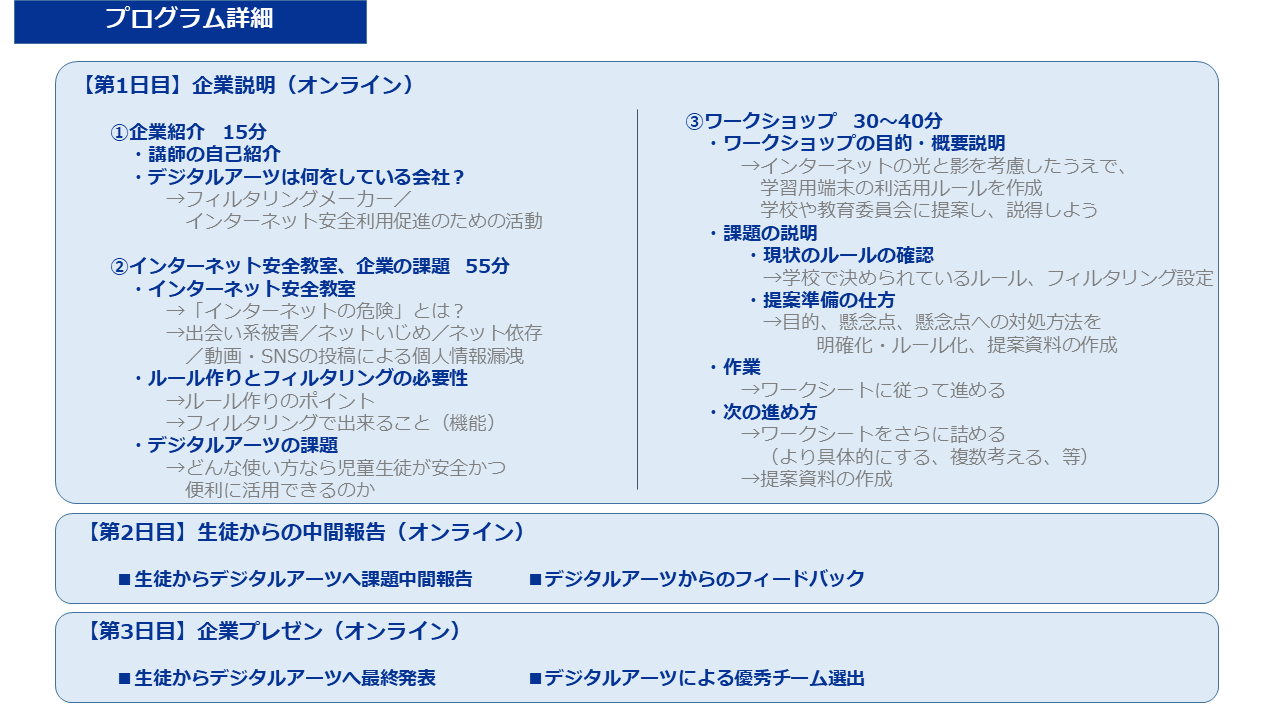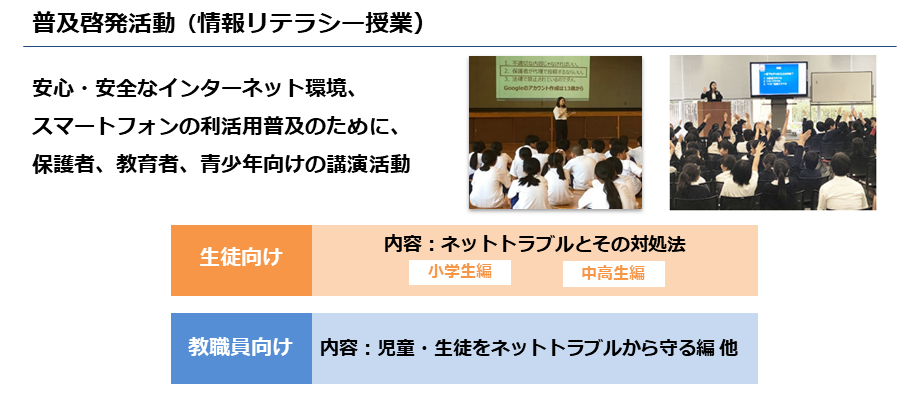 Digital Arts GIGA School Special Lineup
https://www.daj.jp/es/lp/GIGA/
Public Awareness Activities of Digital Arts
Digital Arts Inc. Overview

Digital Arts Inc. is an information security solution provider focused on the development and sales of security software for web, e-mail, files and other uses.
Since its founding in 1995, the company philosophy has been "Contributing to a safer, better, more convenient internet lifestyle" and since developing web-filtering software to prevent the browsing of harmful information on the internet, the company has been promoting internet security products to companies, the public sector and homes everywhere.
https://www.daj.jp/
* Digital Arts, DIGITAL ARTS, i-FILTER, info board, Active Rating System, D-SPA, NET FILTER, SP-Cache, White Web, ZBRAIN, Credential Protection, m-FILTER, m-FILTER MailFilter, m-FILTER Archive, m-FILTER Anti-Spam, m-FILTER File Scan, Mail Detox, m-FILTER EdgeMTA, EdgeMTA, FinalCode, i-Filter, and DigitalArts@Cloud, Desk@Cloud, Desk, D-Alert, D-Contents and other names, logos, icons, designs, etc. related to Digital Arts and its products are registered trademarks of Digital Arts, Inc.
* Other corporate and product names are the trademarks of their respective companies.