Press Release
June 27, 2021
Digital Arts Inc.
m-FILTER cooperates with VOTIRO Disarmer to help render attachments harmless

- Strengthening countermeasures against targeted email attacks in compliance with local government guidelines -
Information security solutions provider Digital Arts Inc. (headquarters: Chiyoda-ku, Tokyo, Japan; CEO: Toshio Dogu; hereinafter referred to as "Digital Arts"; Code 2326) is pleased to announce that its e-mail security product m-FILTER will be collaborating with Votiro Cybersec Ltd.'s (headquarters: Tel Aviv, Israel; CEO & Founder: Aviv Grafi; hereinafter referred to as "VOTIRO) VOTIRO Disarmer, a disarmament solution.

Beginning November 2021, m-FILTER will be cooperating with VOTIRO Disarmer to help render attachments harmless.
The e-mail security product m-FILTER creates a database of domain and IP address combinations to ensure only safe e-mails are received. In addition to features that render e-mails harmless, such as "attachment macro removal," "attachment deletion," "converting HTML/rich text e-mails to text," "disabling of links," and "e-mail redirection (dual delivery)," the latest version (Ver. 5) released in September 2017 has enhanced external attack defense features such as detection of falsified e-mail sources, bodies, and attachments, and is being used by a large number of municipalities and companies.
In recent years, targeted e-mail attacks have been on the rise *1, and the importance of security checks on incoming e-mails has become increasingly important.
In addition, the Ministry of Internal Affairs and Communications' "Guidelines for Information Security Policies in Local Governments" revised in December 2020 clearly states the policy for rendering e-mail attachments harmless: "Once a file is rendered harmless, the risk factors are removed and the file shall be reconstructed and restored to its original file format."
In response to this policy, m-FILTER will begin collaborating with "VOTIRO Disarmer" from November 2021. VOTIRO Disarmer is a solution that focuses on the possibility that a file contains malware, and disarms all target files that are received through various channels outside organizations such as e-mail and the Web. It checks every data area, not only where malware or exploits (scripts or programs to attack using vulnerabilities) are traditionally thought to be hidden, and renders any attacks inexecutable by deleting unnecessary data or embedding meaningless information to manipulate the file. Through this collaboration, "VOTIRO Disarmer" will recursively disarm e-mail attachments received by m-FILTER with a high level of originality, making it possible to send safe files without interfering with business.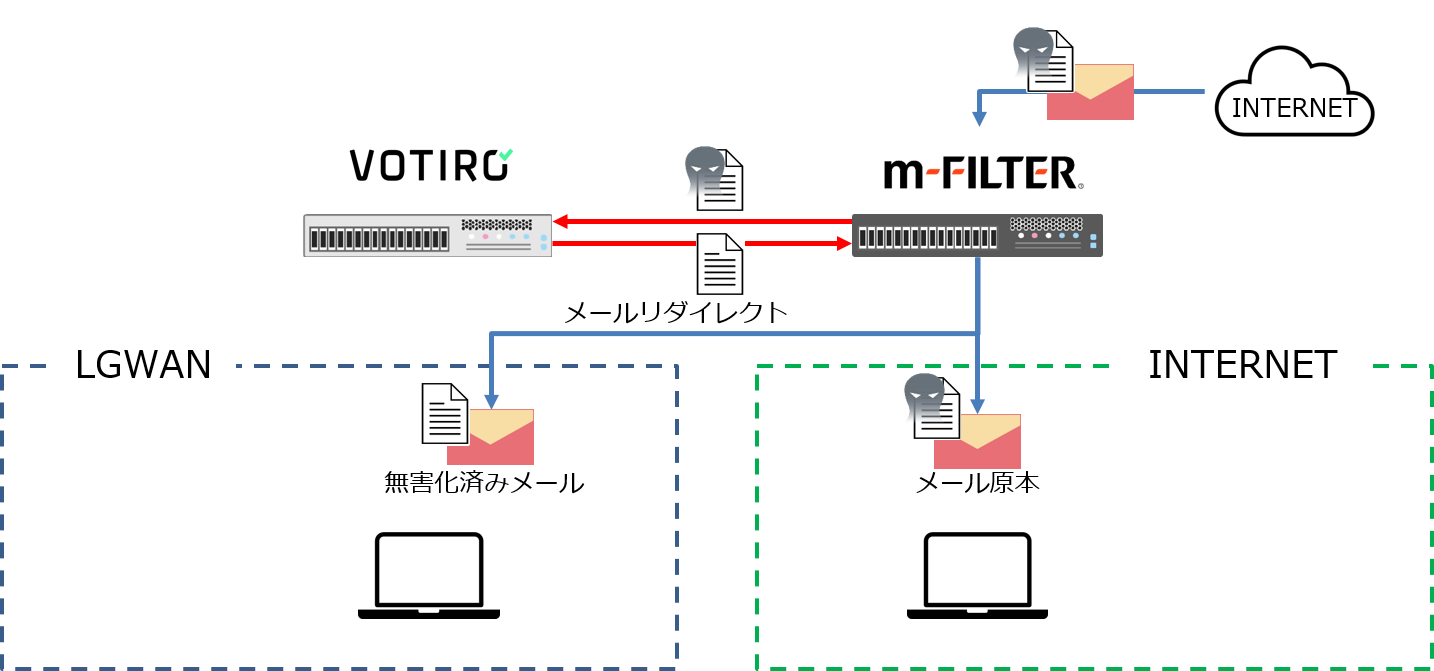 Through this collaboration, Digital Arts aims to further improve product functions in order to support the security measures of the over 400 municipalities that use m-FILTER and many more.
*1 According to the National Police Agency's "Current Threats Surrounding Cyberspace in the First Half of 2020," the agency identified 3,978 cases of targeted e-mail attacks, a higher number than the 2,687 cases in the same half of 2019.
Endorsement from Oren Maguid, Regional Vice President APAC of Votiro Cybersec Ltd.
"Votiro Cybersec Ltd. welcomes the collaboration between Votiro Disarmer and Digital Arts' email security product m-FILTER.
We recognize Digital Arts as a company that is making a significant contribution to society in the field of Internet security, in line with its corporate philosophy of "contributing to a more convenient, comfortable and secure Internet life" in Japan.
Votiro Disarmer has the largest market share in the field of sanitization products in Japan, and has been widely adopted by local governments, especially those that require stronger security. We are confident that your collaboration with Votiro Disarmer, which goes beyond macro removal to eliminate all threats, will bring security and peace of mind to many of your customers in Japan."
Overview of Votiro Cybersec Ltd.
Votiro is a multi-award winning cyber security company. Its mission is to provide cybersecurity solutions for enterprises while driving digital transformation. Votiro's patented, next-generation CDR technology has been employed by more than 500 companies worldwide, and its ease of use and superior features make it possible to provide users with harmless and secure files. Votiro has offices in the United States, Singapore, Australia, and Israel.
Votiro has been named a Cool Vendor by Gartner. It is also received the Common Criteria (ISO/IEC15408) certificate for security evaluation of information technology, an international standard.
Digital Arts Inc. Overview

Digital Arts Inc. is an information security solution provider focused on the development and sales of security software for web, e-mail, files and other uses.
Since its founding in 1995 the company philosophy has been "Contributing to a safer, better, more convenient internet lifestyle" and since developing web-filtering software to prevent the browsing of harmful information on the internet, the company has been promoting internet security products to companies, the public sector and homes everywhere.
https://www.daj.jp/
* Digital Arts, DIGITAL ARTS, i-FILTER, info board, Active Rating System, D-SPA, NET FILTER, SP-Cache, White Web, ZBRAIN, Credential Protection, m-FILTER, m-FILTER MailFilter, m-FILTER Archive, m-FILTER Anti-Spam, m-FILTER File Scan, Mail Detox, m-FILTER EdgeMTA, EdgeMTA, FinalCode, i-Filter, and DigitalArts@Cloud, Desk@Cloud, Desk, D-Alert, D-Contents and other names, logos, icons, designs, etc. related to Digital Arts and its products are registered trademarks of Digital Arts, Inc.
* Other corporate and product names are the trademarks of their respective companies.