Press Release
June 27, 2021
Digital Arts Inc.
m-FILTER cooperates with OPSWAT's MetaDefender Core to help render attachments harmless

- Supporting safe and efficient e-mail security measures that comply with local government guidelines -
Information security solutions provider Digital Arts Inc. (headquarters: Chiyoda-ku, Tokyo, Japan; CEO: Toshio Dogu; hereinafter referred to as "Digital Arts"; Code 2326) is pleased to announce that its e-mail security product m-FILTER will be collaborating with OPSWAT Japan Co., Ltd.'s (headquarters: Chiyoda-ku, Tokyo; President: Fumiya Minagawa; hereinafter referred to as "OPSWAT") MetaDefender Core, an advanced threat prevention solution.

Beginning November 2021, m-FILTER will be cooperating with OPSWAT's MetaDefender Core to help render attachments harmless
The e-mail security product m-FILTER creates a database of domain and IP address combinations to ensure only safe e-mails are received. In addition to features that render e-mails harmless, such as "attachment macro removal," "attachment deletion," "converting HTML/rich text e-mails to text," "disabling of links," and "e-mail redirection (dual delivery)," the latest version (Ver. 5) released in September 2017 has enhanced external attack defense features such as detection of falsified e-mail sources, bodies, and attachments, and is being used by a large number of municipalities and companies.
In recent years, targeted e-mail attacks have been on the rise *1, and the importance of security checks on incoming e-mails has become increasingly important.
In addition, the Ministry of Internal Affairs and Communications' "Guidelines for Information Security Policies in Local Governments" revised in December 2020 clearly states the policy for rendering e-mail attachments harmless: "Once a file is rendered harmless, the risk factors are removed and the file shall be reconstructed and restored to its original file format."
In response to this policy, m-FILTER Ver. 5 will be linked with OPSWAT's MetaDefender Core, which utilizes clear CDR (content disarm and reconstruction) technology, and will be available from November 2021. In addition to conventional e-mail disarmament, this enables file disarmament, which removes the risk factors from files and reconstructs them without interfering with work. "MetaDefender Core's file detoxification feature, Deep CDR, has a "trust no file" philosophy. Based on the premise that no file is to be trusted, the system flexibly removes or disables file components that can harbor risks, and reconstructs them with secure elements while maintaining the file format. It recursively processes more than 115 file types used in normal business operations, including Microsoft Office and PDF files, as well as popular domestic file types such as images, videos, CAD files, and archive files.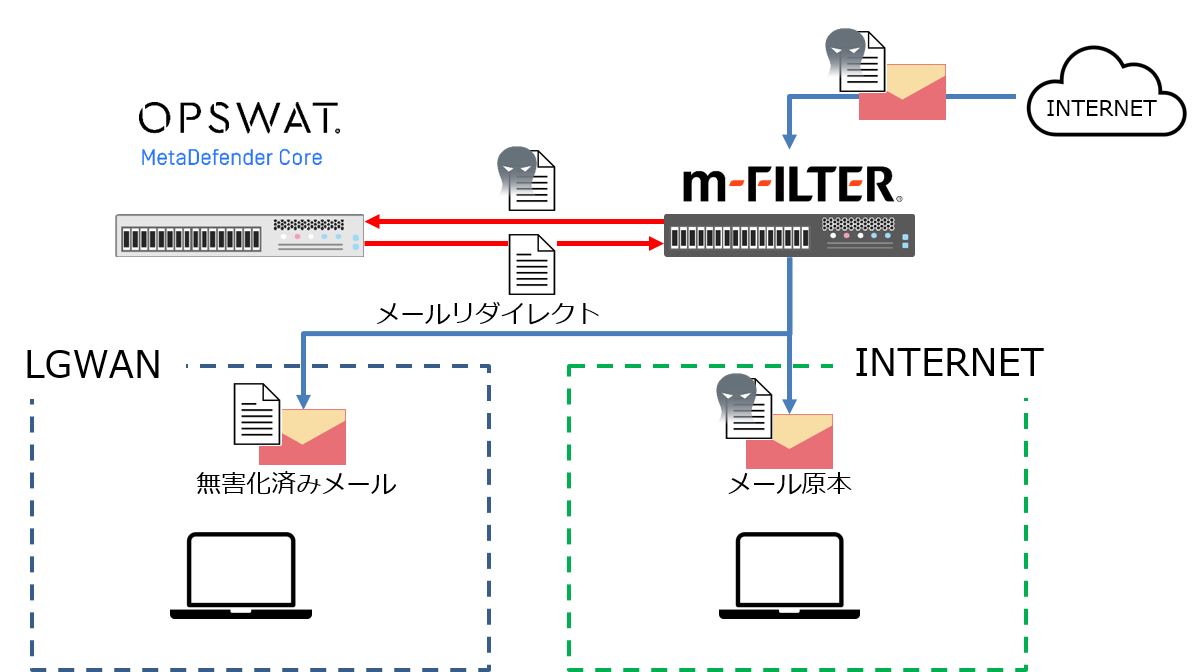 Furthermore, by using this feature together with the "Password Enforcement Inspection Function (Patented: Patent No. 6882217)" of m-FILTER Ver. 5, password locked ZIP files can be rendered harmless.
Through this collaboration, Digital Arts aims to further improve product functions in order to support the security measures of the over 400 municipalities that use m-FILTER and many more.
*1 According to the National Police Agency's "Current Threats Surrounding Cyberspace in the First Half of 2020," the agency identified 3,978 cases of targeted e-mail attacks, a higher number than the 2,687 cases in the same half of 2019.
Endorsement
Fumiya Minagawa, President of OPSWAT Japan Co., Ltd.
OPSWAT Japan Co., Ltd. welcomes Digital Arts' announcement of the launch of m-FILTER.
The seamless integration of Digital Arts' m-FILTER e-mail security product, which creates information security solutions that prevent the dangers associated with Internet access, and OPSWAT's MetaDefender Core, which protects governments, municipalities, and other critical infrastructures around the world from increasingly sophisticated threats based on a Zero Trust philosophy, has resulted in a highly protective solution.
MetaDefender Core is equipped with advanced threat prevention technologies such as "Deep CDR" (content demilitarization and reconstruction) that supports more than 115 file types and recursively disarms elements in files, and "Metascan," a multi-scanning technology that simultaneously uses up to 30+ anti-malware engines to scan for viruses with a high detection rate.
We hope that this enhanced collaboration will help our customers solve their security issues and contribute to the creation of a society with even more secure networks.
Overview of OPSWAT Japan Co., Ltd.
Founded in 2002, OPSWAT is a leading file disarmament and multi-scanning company that provides security solutions to over 1500 organizations, including critical infrastructures worldwide. In order to protect organizations from increasingly sophisticated cyber-attacks, OPSWAT has continued to undertake research and development based on the philosophy of Zero Trust and "Trust no file. Trust no device." and provide products and solutions together with technology and channel partners around the world. OPSWAT Japan was established in 2018 as a subsidiary and part of OPSWAT's global expansion. It went on to provide value-added cyber security solutions to customers in government-including local governments and boards of education-manufacturing, finance, energy, healthcare, etc., through collaboration and coordination with partners.
Digital Arts Inc. Overview

Digital Arts Inc. is an information security solution provider focused on the development and sales of security software for web, e-mail, files and other uses.
Since its founding in 1995 the company philosophy has been "Contributing to a safer, better, more convenient internet lifestyle" and since developing web-filtering software to prevent the browsing of harmful information on the internet, the company has been promoting internet security products to companies, the public sector and homes everywhere.
https://www.daj.jp/
* Digital Arts, DIGITAL ARTS, i-FILTER, info board, Active Rating System, D-SPA, NET FILTER, SP-Cache, White Web, ZBRAIN, Credential Protection, m-FILTER, m-FILTER MailFilter, m-FILTER Archive, m-FILTER Anti-Spam, m-FILTER File Scan, Mail Detox, m-FILTER EdgeMTA, EdgeMTA, FinalCode, i-Filter, and DigitalArts@Cloud, Desk@Cloud, Desk, D-Alert, D-Contents and other names, logos, icons, designs, etc. related to Digital Arts and its products are registered trademarks of Digital Arts, Inc.
* Other corporate and product names are the trademarks of their respective companies.