Press Release
June 27, 2021
Digital Arts Inc.
Achieving isolated network file transfers by connecting m-FILTER with Soliton's FileZen S

- Allowing municipalities to safely and efficiently exchange files via e-mail even with different segments -
Information security solutions provider Digital Arts Inc. (headquarters: Chiyoda-ku, Tokyo, Japan; CEO: Toshio Dogu; hereinafter referred to as "Digital Arts"; Code 2326) is pleased to announce that it will be collaborating with Soliton Systems, Inc. (Headquarters: Shinjuku-ku, Tokyo; President: Nobuo Kamata; hereinafter "Soliton") to link its mail security product m-FILTER and the file transfer solution FileZen S.

Beginning November 2021, the collaboration between m-FILTER and FileZen S will enable e-mail attachments to be sent and received on isolated networks.
The e-mail security product m-FILTER creates a database of domain and IP address combinations to ensure only safe e-mails are received. In addition to features that render emails harmless, such as "attachment macro removal," "attachment deletion," "converting HTML/rich text emails to text," "disabling of links," and "e-mail redirection (dual delivery)," the latest version (Ver. 5) released in September 2017 has enhanced external attack defense features such as detection of falsified e-mail sources, bodies, and attachments. A collaboration with Soliton's file transfer service FileZen beginning in May 2016 enabled municipalities to easily transfer files between their internet-connected systems and LGWAN systems.
With the release in March 2020 of the new FileZen S, which simplifies file transfers in local government isolated networks, Digital Arts and Soliton have teamed up to link m-FILTER and FileZen S, which will be available from November 2021. An entirely new product, FileZen S has been enhanced to enable simple file transfers "to and from yourself" on isolated networks. Attachments received by m-FILTER will be handed over to FileZen S, which will not only smoothly transfer files between internet-connected systems and LGWAN systems but also automatically use one of its features to render the files harmless, and deliver them to their final destination. This allows files to be transferred securely and efficiently even when they are being passed between different segments of a municipality's network.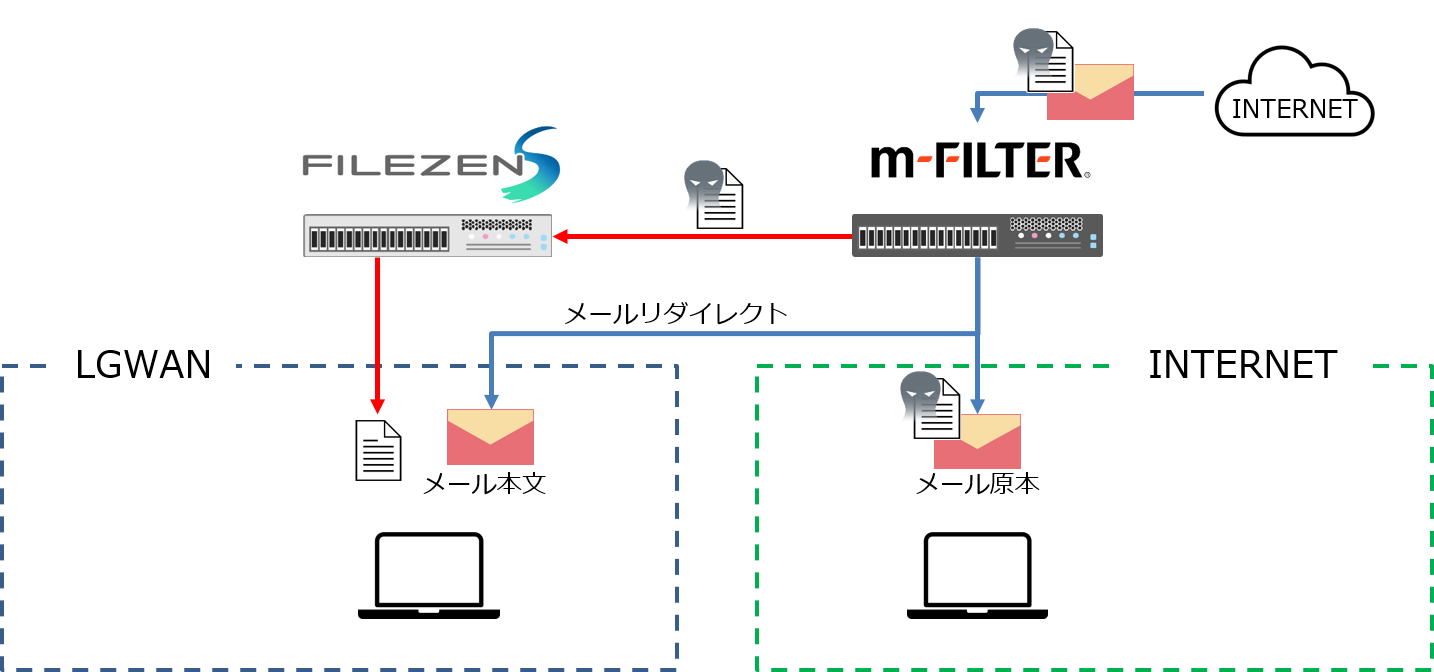 Through this collaboration, Digital Arts aims to further improve product functions in order to support the security measures of the over 400 municipalities that use m-FILTER and many more.
Endorsement
Kazuya Hashimoto, Executive Officer General Manager of the IT Security Product & Service Business Unit at Soliton Systems, Inc.
We welcome the collaboration between FileZen S and Digital Arts' e-mail security product m-FILTER. This collaboration will enable comprehensive file transfers and render files, including e-mail attachments, harmless in isolated networks. We believe it will provide a safer and more efficient work environment for our customers, especially municipalities.
Overview of Soliton Systems, Inc.
Since its establishment, Soliton Systems has been continually keeping track of new technology trends in the IT and electronics industries, and has successfully achieved a number of firsts in Japan. In recent years, they have been working on a wide range of products, from IT security with a focus on authentication to cyber security, as well as high-definition video streaming systems and remote drives using 4G and 5G cellular and Wi-Fi networks. As a domestic manufacturer, we provide products and services that focus on original "productions" and "originality.
Established: 1979; Sales: 16.5 billion yen (consolidated, fiscal year ending December 2020); TSE 1st Section
Digital Arts Inc. Overview

Digital Arts Inc. is an information security solution provider focused on the development and sales of security software for web, e-mail, files and other uses.
Since its founding in 1995 the company philosophy has been "Contributing to a safer, better, more convenient internet lifestyle" and since developing web-filtering software to prevent the browsing of harmful information on the internet, the company has been promoting internet security products to companies, the public sector and homes everywhere.
https://www.daj.jp/
* Digital Arts, DIGITAL ARTS, i-FILTER, info board, Active Rating System, D-SPA, NET FILTER, SP-Cache, White Web, ZBRAIN, Credential Protection, m-FILTER, m-FILTER MailFilter, m-FILTER Archive, m-FILTER Anti-Spam, m-FILTER File Scan, Mail Detox, m-FILTER EdgeMTA, EdgeMTA, FinalCode, i-Filter, and DigitalArts@Cloud, Desk@Cloud, Desk, D-Alert, D-Contents and other names, logos, icons, designs, etc. related to Digital Arts and its products are registered trademarks of Digital Arts, Inc.
* Other corporate and product names are the trademarks of their respective companies.