Press Release
September 1, 2021
Digital Arts Consulting Inc.
Digital Arts Consulting — Introducing a new support service for small and medium-sized businesses with i-FILTER@Cloud QuickStart — now available
—Configure the recommended settings for optimal web security in as little as three business days*1—
On September 1, Digital Arts Consulting (headquarters: Chiyoda-ku, Tokyo; President: Tadao Matsumoto; hereinafter referred to as "Digital Arts Consulting"), a CISO service provider for enterprises that require advanced cybersecurity, launched a new service "QuickStart for i-FILTER@Cloud" to support the introduction of the web security cloud service "i-FILTER@Cloud" provided by Digital Arts Inc., a member of the same group, (headquarters: Chiyoda-ku, Tokyo, Japan; CEO: Toshio Dogu; hereinafter referred to as "Digital Arts"; Code 2326).
With the rapid increase in people working from home, the use of cloud services in businesses and systems is also increasing, leading to a growth in the need for cloud operations in security measures. On ther other hand, the number of cyber-attacks continues to increaseworldwide*2, and domestic companies, regardless of industry or size, too are becoming targets of attacks.
Information security provider Digital Arts offers i-FILTER Ver. 10, a web security product that blocks malicious URLs and malware downloads used in cyber attacks, and i-FILTER@Cloud, a cloud service for the same product. We have built a unique filtering database that collects and categorizes all URLs in Japan, and only allows access to URLs that have been certified as safe (Whitelisting), thereby protecting our customers from unknown threats. i-FILTER@Cloud is used by many companies as a cloud service product that realizes robust security measures for working from home environments and portable devices.
Traditional Whitelisting systems that only allowed access to safe URLs provided stronger security, but also posed challenges in actual use, such as often making users unable to access URLs necessary for work. In contrast, Digital Arts' Whitelisting can be optimized to not reduce work efficiency of customers while maintaining the strong security level provided by Whitelisting functions by utilizing the range of functions i-FILTER@Cloud provides as a cloud proxy. However, as proper security requires time and knowledge, we have received requests from customers, such as small and medium-sized businesses with limited resources to allocate to IT and security, for support in the introduction of i-FILTER@Cloud.
New service that allows users to easily start using Whitelisting's external attack countermeasures
As such, Digital Arts Consulting has decided to provide the introduction support service "QuickStart for i-FILTER@Cloud" to optimize the security measures of i-FILTER@Cloud for more customers and make it easier to introduce. In the past, customers had to set up their own server, create users, and configure security settings, etc., but with recommended settings optimized for their business, we can provide the necessary server settings in as little as three business days. As well, we can support the introduction of the system so that customers can start using it immediately. We have extensive knowledge of cybersecurity and provide consultations on security operations to support our clients' businesses. Leveraging this knowledge, we will make the most of i-FILTER@Cloud's Whitelisting feature and include it as a recommended setting optimized for our clients while maintaining the security level needed for their operations.
Specifically, in addition to creating users, URL and content filters are configured and created according to up to five filter groups. In addition, the web service control setting allows you to set controls according to your specific business needs, such as "only allow access to social media for PR staff," and a briefing session for administrators to explain basic operation methods.
As a result, even customers with limited resources and personnel to manage security will be able to introduce i-FILTER@Cloud without a problem. The service will be available for small-scale users such as small to medium-sized businesses with 300 licenses or less. 
Overview of QuickStart for i-FILTER@Cloud
With QuickStart, Digital Arts Consulting will perform the server settings required for i-FILTER@Cloud on behalf of you.
It also allows you to use i-FILTER@Cloud with the recommended settings rather than having to play around with the myriad of features it contains.
Provided featrues: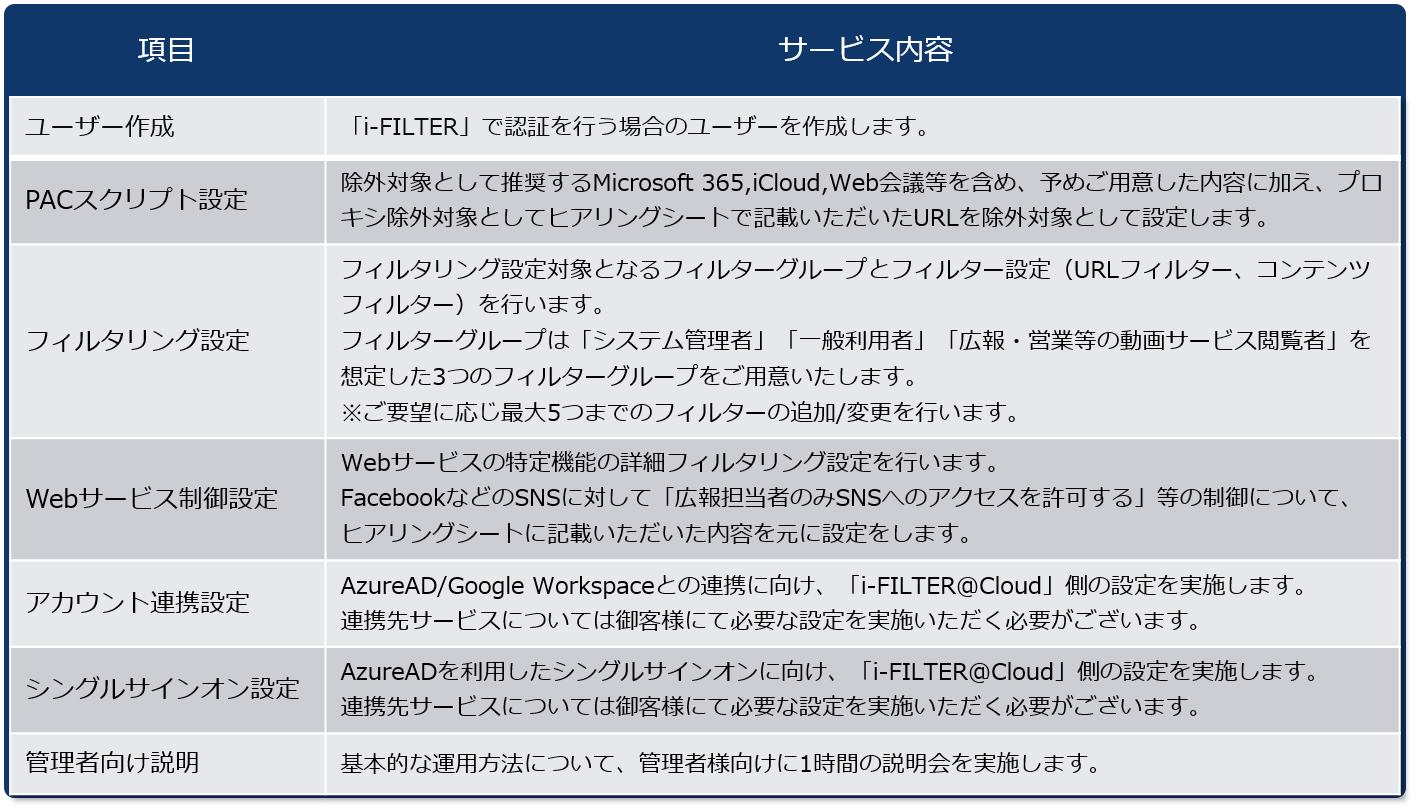 Pricing:

To begin using: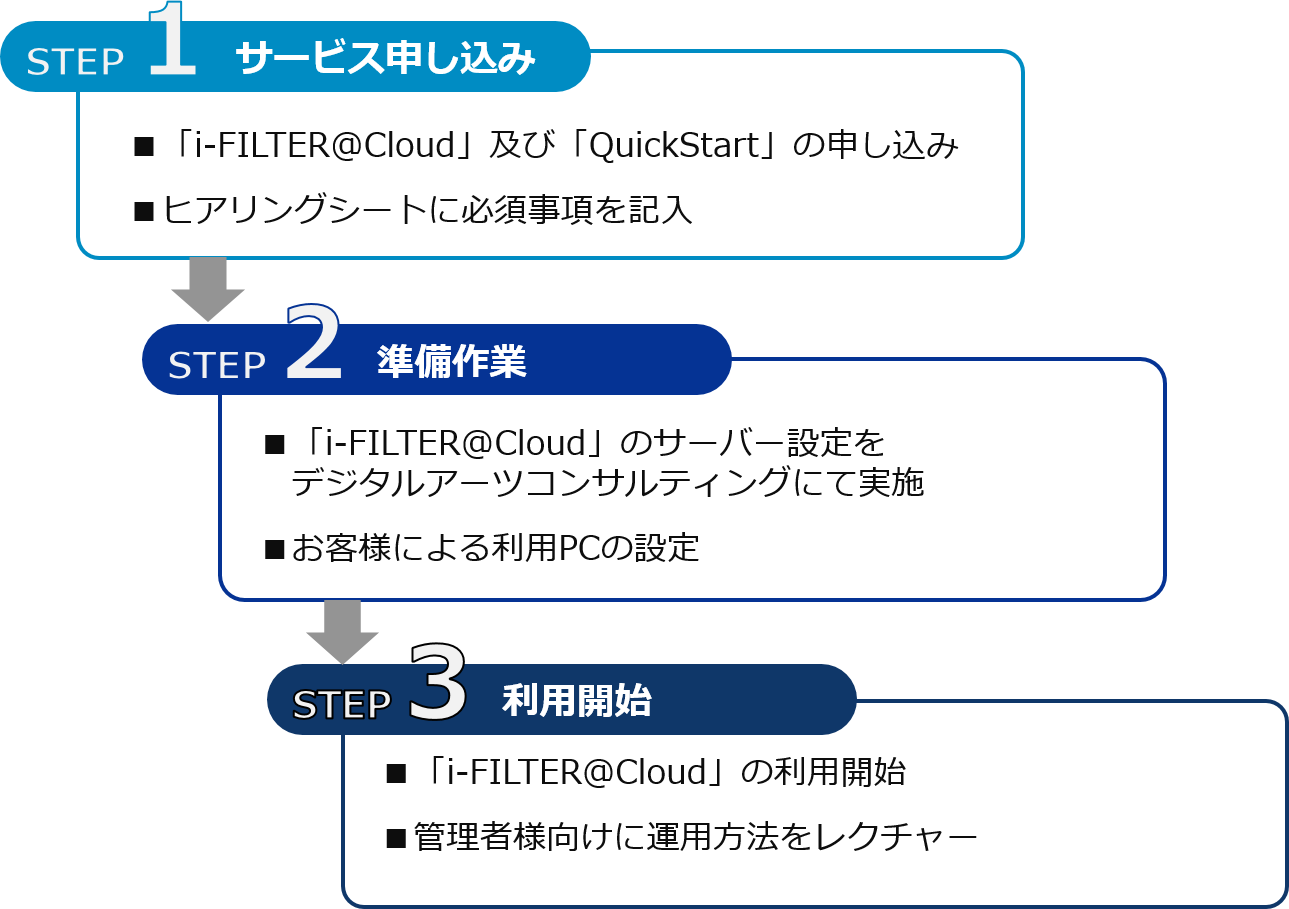 By combining this introduction support service with its existing services, Digital Arts Consulting aims to strengthen the security of business systems, which are set to become increasingly important, and to seek an optimal management environment through the use of ICT.
*1 After the i-FILTER@Cloud licenses are issued, the period for the required server settings will begin after the customer questionnaire is checked and confirmed correct. The period from the application for i-FILTER@Cloud to the issuance of the license is not included.
*2 According to a report by the National Institute of Information and Communications Technology (NICT), "NICTER Observation Report 2020" (released on February 16, 2021), the number of cyber attack-related communications observed by the NICTER project's large-scale cyber attack observation network in 2020 will be approximately 500.1 billion packets (per year). This is about 1.5 times higher than the 322 billion packets in 2019, and is a continuation of the upward trend seen in the same year.
https://www.nict.go.jp/cyber/report/NICTER_report_2020.pdf
About Digital Arts

With the corporate philosophy of "contributing to a more convenient, comfortable and secure Internet life," Digital Arts Inc. is a domestic security software provider that provides information security solutions centered on web mail and file security for businesses, government offices and schools, and households.
In 1998, we introduced Japan's first web filtering software, and have since been providing information security products to counter external attacks and internal information leaks. With our unique web filtering database that supports the foundation of our products, and our technological capabilities that have been patented in 27 countries and regions around the world, we aim to provide security products that protect our customers from unknown threats.
https://www.daj.jp
About Digital Arts Consulting

Digital Arts Consulting Inc. was established on April 1, 2016 as a strategic subsidiary of Digital Arts Inc., bringing together members who specialize in IT strategy consulting for its management departments.
In recent years, external cyber-attacks on corporations and government agencies and internal leaks of confidential information have come to be seen as serious issues both in Japan and around the globe. There is a growing need for support in introducing security products, so Digital Arts has begun providing support for the introduction of cybersecurity measures, especially for major companies in the manufacturing, financial, and pharmaceutical industries, in response to market needs in a flexible and timely manner, while utilizing the customer base and know-how that we have cultivated in the information security industry.
https://con.daj.jp
* The name Digital Arts Consulting, and all logos and icons related to Digital Arts Consulting and its products are trademarks or registered trademarks of Digital Arts Consulting, Inc.
* Other corporate and product names are the trademarks of their respective companies.