Press Release
September 29, 2021
Digital Arts Inc.
Approx. 30% of school boards yet to introduce filters
— Digital Arts independent survey
Urgent need for measures to protect children such as rules for GIGA school device use

ーComments from school board teachers who have used filters to prevent inappropriate device useー
Information security solutions provider Digital Arts Inc. (headquarters: Chiyoda-ku, Tokyo, Japan; CEO: Toshio Dogu; hereinafter referred to as "Digital Arts"; Code 2326) carried out a survey on the status of filters in the GIGA School Concept's one device per student initiative. In addition, we have prepared a case study of an education board using Digital Arts' web filtering product i-FILTER@Cloud.
The GIGA School Concept is an initiative to provide high-speed internet and a device to every student nationwide. By the end of the 2020 school year, most schools have been successful in providing each student with a device. However, it's now "after-GIGA" and how the devices are being used that are garnering attention. In addition to protecting children from websites that are dangerous or inappropriate for education and from using the Internet for long periods of time, it is also essential for teachers and parents to control the use of devices and introduce security measures so that they can rest assured that their children will be safe.
In September, a tragic incident in which an elementary school girl in Tokyo committed suicide after being bullied through devices distributed under the GIGA school Concept became national news. The girl was being bullied by people who wrote negative comments about her in the chat on the GIGA School device given to her at school. It was reported that the local government left the use of GIGA School devices to the children themselves, and that device passwords were the same for all children, making it easy for them to see each other's posts.
What measures should be taken to ensure that children, who are still developing relationships, communication skills, and internet literacy, can use GIGA School devices safely? In order to prevent such incidents from happening again, there is an urgent need for measures to protect children, such as establishing usage rules, to be taken.
About 30% of municipalities have not yet introduced filters, and there is an urgent need to ensure the safety of children and students using devices.
According to the results of interviews with boards of education conducted by Digital Arts in March 2021, approximately 70% of them had already taken filtering measures for GIGA School devices. While many school boards have already implemented filters, about 20% have none, and 10% use free filters.

Free filters mainly refer to filters that are included in an OS. Free filters are mainly aimed at blocking adult content, and it is up to OS creators to decide which content to block. For this reason, blocking of harmful information such as crimes, violence, and threat information sites other than adult content must be manually registered one by one by the administrator. In this way, it is difficult to cover all harmful content, flexibly control web services such as limiting YouTube to educational content only, and set detailed settings such as time limits, without the help of a specialized security company. So free filters are not sufficient for proper use of learning devices.
In addition to "post controls" and "application controls," which prohibit posts related to cyberbullying, our system is also equipped with a "Child Protection System."
Digital Arts' web security product i-FILTER@Cloud GIGA School Edition is a filtering service for schools that has been improved to enable the use of the GIGA School Concept's one device per student initiative and allow safe and smooth learning in educational settings. Based on i-FILTER's filter data base, which has the No.1sharein the domestic market*, detailed filtering rules can be made to meet the learning environment's needs.
In addition, all three operating systems recommended by the Ministry of Education, Culture, Sports, Science and Technology (MEXT) in its GIGA School Concept can use the "post controls" function, which controls the posting of messages by students on hidden message boards and social media websites, and the uploading of photos taken with the device's built in camera. This will prevent children and students from using the devices for private use, using them for purposes unrelated to learning, and writing messages that could lead to bullying. It is also possible to block certain words when they are included in a post being posted in a chat or message board without blocking the post itself. The "application controls" feature allows users to restrict the use of registered applications, thus preventing students from using inappropriate applications.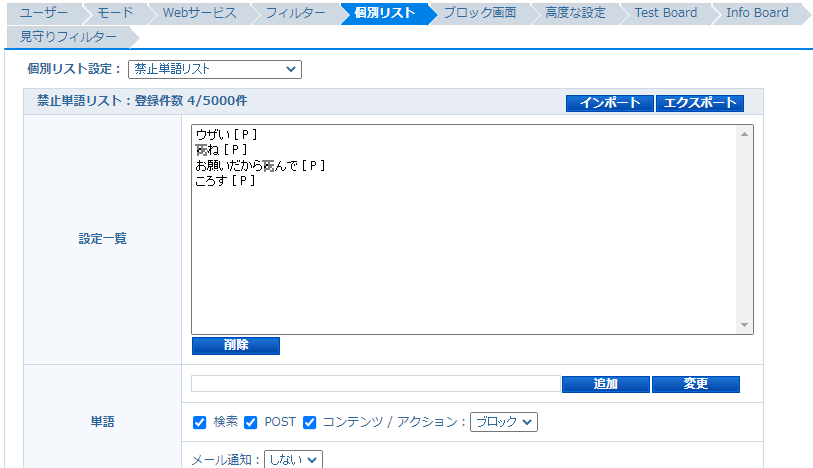 In addition, with the "Child Protection System," which is provided to support education in the class room, when a student accesses a website related to suicide from their device, i-FILTER@Cloud will block them, and at the same time, send an alert via email to the designated faculty member or the board of education. This system makes it possible to detect distressed students who have attempted to access suicide-related websites, which previously would have gone unnoticed. By providing mental healthcare to students as soon as possible and before their problems become more serious, the system act as an "watchdog alarm" that protects children's lives.
Comments from boards of education that have introduced filters emphasizing the need to watch over children ー "We don't want our children to be victims or perpetrators"
As examples of Digital Arts' products at work, we will gradually release comments from boards of education that have adopted i-FILTER@Cloud in response to the GIGA School Concept from October. While some boards of education have not implemented filters, the following comments have come from teachers of boards of education that have introduced i-FILTER@Cloud.
▼"We must not allow children to access harmful websites that could lead to suicide, crime, or other life-threatening situations, or allow them to get into trouble on social media."
"Filters are essential for the safety of children and as tools to reduce the burden on teachers."
▼"Technology will only be used in classrooms once the anxiety is removed. When protecting children from danger, it's difficult to stop them with only warnings and rules. We believe it's important to implement a system that will stop them, so we have introduced filters."
"No teacher wants children to be victims or perpetrators, so it's important to be able to stop children from walking into danger."
▼"Certain restrictions are necessary to ensure that devices are used properly in the classroom."
"Above all, parents are concerned about whether or not filters are in place. Some wonder if their children are being properly protected."
▼"We have decided that it is necessary for educational institutions to have a clear understanding of which sites are blocked and how to flexibly apply filters."
"As parents, I think there are a lot of concerns, so we think it's best to remove the anxiety factor."
▼"If teachers are worried that they don't know what their children are looking at, they may decide not to use the devices." "We believe that children will only be able to use the devices freely when teachers feel completely secure. Since we were considering implementing off-site learning from the beginning, we thought filters would be essential."
▼"Online classes held due to the pandemic led us to believe that off-site learning is the new norm. It became necessary to introduce filters so that children could use tablets safely and securely at home."
"We came to believe that filters are not just a regulation but a necessity for keeping an eye on children.
▼"Ideally, I think it's important for children to be able to use devices freely, but it takes knowledge and experience to be able to make appropriate decisions."
"While some teachers feel that a free environment will allow them to implement a variety of educational activities, others are concerned that children may access dangerous sites or use the devices for purposes other than learning. We felt it was essential to introduce filters to protect safety and encourage teachers to actively use the system."
*Fuji Chimera Research Institute, Inc. "2020 Network Security Business Survey General Guide" Web Filtering Tool Market Share (FY2019) (Published November 2020)
Digital Arts Inc. Overview

Digital Arts Inc. is an information security solution provider focused on the development and sales of security software for web, e-mail, files and other uses.
Since its founding in 1995, the company philosophy has been "Contributing to a safer, better, more convenient internet lifestyle" and since developing web-filtering software to prevent the browsing of harmful information on the internet, the company has been promoting internet security products to companies, the public sector and homes everywhere.
Otemachi First Square, West Tower 14F, 1-5-1, Otemachi, Chiyoda-ku, Tokyo, Japan
URL: https://www.daj.jp/
* Digital Arts, DIGITAL ARTS, i-FILTER, info board, Active Rating System, D-SPA, NET FILTER, SP-Cache, White Web, ZBRAIN, Credential Protection, Whitelisting, m-FILTER, m-FILTER MailFilter, m-FILTER Archive, m-FILTER Anti-Spam, m-FILTER File Scan, Mail Detox, m-FILTER EdgeMTA, EdgeMTA, FinalCode, i-Filter, and DigitalArts@Cloud, Desk@Cloud, Desk, D-Alert, D-Contents and other names, logos, icons, designs, etc. related to Digital Arts and its products are registered trademarks of Digital Arts, Inc.
* Other corporate and product names are the trademarks of their respective companies.