Press Release
November 2, 2021
Digital Arts Inc.
GIGA School Device Usage Case Study of Hyogo Prefecture's Ashiya City Board of Education

— Flexible filters are key for ICT use to become standard in education —
Information security solutions provider Digital Arts Inc. (headquarters: Chiyoda-ku, Tokyo, Japan; CEO: Toshio Dogu; hereinafter referred to as "Digital Arts"; Securities Code 2326) is pleased to announce on November 2 it released an introduction case study of the Ashiya City Board of Education in Hyogo Prefecture, which used the web security cloud service i-FILTER@Cloud GIGA School Edition as a security measure for the one device per student GIGA School Program.
Introducing a Case Study of a Board of Education That Introduced Filtering to Ensure Proper Use of Devices
The GIGA School Program, which aims to provide devices and high-speed internet to every student nationwide, coupled with the increased need for online learning brought on by the pandemic, has led many local governments to fully introduce devices by the end of fiscal 2020. Each municipality continues to promote the use of ICT in schools and investigate the optimal way to operate the program, including how to use devices for learning and usage rules for students.

In the midst of all this, it was found that a tragic incident occurred in September where an elementary school girl in Tokyo committed suicide after being bullied in chat rooms on devices distributed through the GIGA School Program. Children are still in the developmental stages of relationships and communication, and their internet literacy, too, is in its infancy. At this stage, both the issue of whether to allow students to use devices connected to the internet without restriction and the use of GIGA School devices have been highlighted. To prevent such incidents from happening again, is there any way to keep an eye on children's safety and allow them to use their devices safely?

Since April 2020, Digital Arts has been providing the web security cloud service i-FILTER@Cloud GIGA School Edition (hereinafter referred to as i-FILTER@Cloud) so that students can use GIGA School devices safely and teachers and parents can have peace of mind in letting their children use the devices. On November 2, we released a case study of the Ashiya City Board of Education in Hyogo Prefecture, which introduced i-FILTER@Cloud GIGA School Edition and is making efforts to make ICT use standard in education across the prefecture.         
Protecting students with flexible filters essential for on-site learning — Online classes are being utilized to aid students unable or uncomfortable with coming to school
In Ashiya City, 6,233 iPads for learning installed with i-FILTER@Cloud were distributed to schools in late January of 2021. As part of the initiative to encourage free and independent learning, GIGA School Program, many local governments use the minimum internet restriction features that come packaged with the operating system as not to overly restrict students' learning. However, Ryo Obayashi, Director of the Uchide Education and Culture Center, School Education Department, Ashiya City Board of Education, said, "While filters provided by OS developers can block specific websites, they make it difficult to make more advanced, detailed settings. It's necessary for those in education, including the city's Board of Education, to have a clear understanding of which categories are allowed and which are not. It's also important that we be able to flexibly change settings depending on the learning activity, so we decided to install a filter from a security solutions provider. Also, there has been a lot of interest from parents in the rules regarding internet browsing, and I think many would be concerned if students were given too much freedom. So, to let them rest easy, we thought it would be best if we could set the strength of the advanced filters.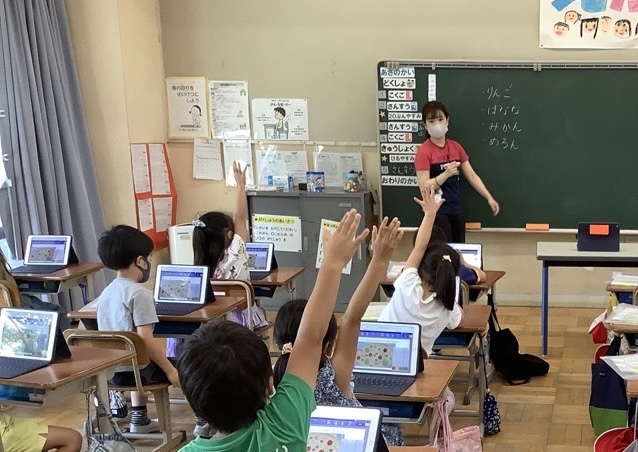 At schools in Ashiya City, Director Obayashi said that in addition to using learning support software in the classroom, devices are not limited to the walls of the classroom and are used outside for functions such as the camera. There are even some schools where devices are used during recess. Currently, there are systems in place to provide schools with IT support. Manufacturers provide training and telephone support for teachers on how to use devices and learning support software, while GIGA School Supporters share videos and materials on how to use devices that teachers can immediately access. In addition, at schools, the teachers in charge of information hold mini-training sessions at their schools and the Board of Education supervisor conducts on-site training when necessary.

This close cooperation with teachers has been a success and devices are being used more and more every day. In addition, the board has been increasingly streaming online classes, which we have been offering for some time now, and the teachers on-site say that although there are some hiccups, the online classes help students unwilling or uncomfortable with coming to school. One principal also said, "I was surprised that through these online classes, some students who weren't coming to school were joining classes. I think this is a great initiative." He hopes to continue researching the possibilities online classes could provide.

Digital Arts' "Recommended Filters" providing a feeling of safety, peace of mind, and easy safety management
Director Obayashi said that one of the strongest points of i-FILTER@Cloud is the peace of mind that comes from being able to watch over children at all times with its "Recommended Filters." The "Recommended Filters" is a feature that only allows access to URLs that have been confirmed safe by Digital Arts. Access to URLs that have not been confirmed safe is blocked, so teachers and parents can rest easy knowing that students can freely browse the internet safely. If the website a student wants to visit is blocked, the teacher can make a request, and the school board can give permission to view it. Director Obayashi also says that the "device quarantine function" is helpful in teaching. The "device quarantine function" automatically quarantines devices that have accessed malicious websites, so that devices that may have been infected with malware can be quickly removed from the network to prevent the spread of damage. "The quarantined device is then reset to its factory settings. Usually, we ask the schools to contact the Board of Education and resume use only after things have been confirmed safe." said Obayashi "Eventually, we would like to consider using 'web service controls' to allow more freedom in learning by making minor adjustments, such as allowing only the viewing of social media or YouTube videos on a content-by-content basis.

We want to create classes where students can use devices as pieces of stationery to express themselves creatively.
In order for children to live in an era of rapid change, Ashiya City has worked to create classes that value an attitude of continued independent learning. In the future, I hope we can establish a system where students can use devices in class without thinking about it as if it were a part of their daily lives," said Obayashi. He went on to say, "We hope that people will be able to use devices as stationery like the Ministry of Education, Culture, Sports, Science and Technology had imagined. At this stage, the focus is on mastering all their features, but in the future, we would like to create classes where children can use them to express themselves creatively."


■The full case study of the Ashiya City Board of Education in Hyogo Prefecture can be found here  
Digital Arts "i-FILTER@Cloud" GIGA School Edition Special Lineup
In addition to "post controls" and "web service controls," which prohibit posts related to cyberbullying, our system is also equipped with a "Child Protection System."
Digital Arts' web security cloud service i-FILTER@Cloud GIGA School Edition is a filtering service for schools that has been improved to enable the use of the GIGA School Concept's one device per student initiative and allow safe and smooth learning in educational settings. Based on i-FILTER's filter database, which has the No.1 share in the domestic market*, detailed filtering rules can be made to meet the learning environment's needs.
In addition, all three operating systems recommended by the Ministry of Education, Culture, Sports, Science and Technology (MEXT) in its GIGA School Concept can use the "post controls" function, which controls the posting of messages by students on hidden message boards and social media websites, and the uploading of photos taken with the device's built-in camera. This will prevent children and students from using the devices for private use, using them for purposes unrelated to learning, and writing messages that could lead to bullying. In addition, "Web Service Controls" controls functions such as login, writing, uploading, and downloading for each web service, and the "Child Protection System" blocks students' access to suicide-related websites from their own devices using i-FILTER@Cloud and alerts designated teachers and staff or the Board of Education by e-mail. These functions help support educational settings to keep an eye on children's safety and find distressed students as soon as possible.

i-FILTER@Cloud GIGA School Edition

*Fuji Chimera Research Institute, Inc. "2020 Network Security Business Survey General Guide" Web Filtering Tool Market Share (FY2019) (Published November 2020)
Digital Arts Inc. Overview

Digital Arts Inc. is an information security solution provider focused on the development and sales of security software for web, e-mail, files and other uses.
Since its founding in 1995, the company philosophy has been "Contributing to a safer, better, more convenient internet lifestyle" and since developing web-filtering software to prevent the browsing of harmful information on the internet, the company has been promoting internet security products to companies, the public sector and homes everywhere.
Otemachi First Square, West Tower 14F, 1-5-1, Otemachi, Chiyoda-ku, Tokyo, Japan
URL: https://www.daj.jp/
* Digital Arts, DIGITAL ARTS, i-FILTER, info board, Active Rating System, D-SPA, NET FILTER, SP-Cache, White Web, ZBRAIN, Credential Protection, Whitelisting, m-FILTER, m-FILTER MailFilter, m-FILTER Archive, m-FILTER Anti-Spam, m-FILTER File Scan, Mail Detox, m-FILTER EdgeMTA, EdgeMTA, FinalCode, i-Filter, and DigitalArts@Cloud, Desk@Cloud, Desk, D-Alert, D-Contents and other names, logos, icons, designs, etc. related to Digital Arts and its products are registered trademarks of Digital Arts, Inc.
* Other corporate and product names are the trademarks of their respective companies.