Press Release
November 15, 2021
Digital Arts Inc.
Expanding Our "Protection Filters" for Giga School Devices to Block & Notify Teachers of Posts & Searches That Lead to Cyber Bullying and Suicide.

— Terms related to suicide were searched over 10 times in just 5 days on learning devices —
Information security solutions provider Digital Arts Inc. (headquarters: Chiyoda-ku, Tokyo, Japan; CEO: Toshio Dogu; hereinafter referred to as "Digital Arts"; Securities Code 2326) is pleased to announce on November 13 the web security cloud service "i-FILTER@Cloud" GIGA School Edition received new features that allow the administrator to set various rules, such as blocking search words specified by the administrator, such as "suicide" and "runaway," or placing restrictions on specific Web services, and to notify the administrator by e-mail.
Record number of youth suicides, and cyberbullying on the rise despite decline in cyberbullying awareness
According to a survey by the Ministry of Education, Culture, Sports, Science and Technology (MEXT), the number of children who committed suicide reported by elementary, junior high and high schools in 2020 was 415, a significant increase from 317 in 2019 and the highest number since records began*1.

According to the latest survey by MEXT, the number of recognized cases of bullying has decreased. However, the number of cases of cyberbullying, such as "slander, abuse, or being made to feel uncomfortable online or via text," continues to increase every year from 7,898 cases in 2014 to a record 18,870 cases in 2020. Considering the possibility that bully using devices distributed as part of their GIGA School program and one student, one device initiative has increased, MEXT issued a notice*2 stating that it is important to clarify the rules for using learning devices to ensure a common understanding with students and to allow teachers to check students' chats to ensure that they can use devices safely and effectively.

With this most recent series of events, Digital Arts has expanded the functions of the Protection Filters included in i-FILTER@Cloud GIGA School Edition. In the past, Protection Filters blocked access to websites placed in the "suicide" and "running away" categories set by Digital Arts, and blocked searches and posts related to suicide and running away, and then sent email notifications to administrators. However, administrators weren't able to set rules not related to these two categories.

With this expanded functionality, administrators can now block access to search terms and websites of their choice and set up e-mail notifications. In addition, administrators can set timers and rules for the use of specific web services, such as social media, on devices. If the rules are broken by a device, it will be blocked and an e-mail notification will be sent to administrators. The on-premises version of i-FILTER Ver. 10 already includes the ability to set various rules.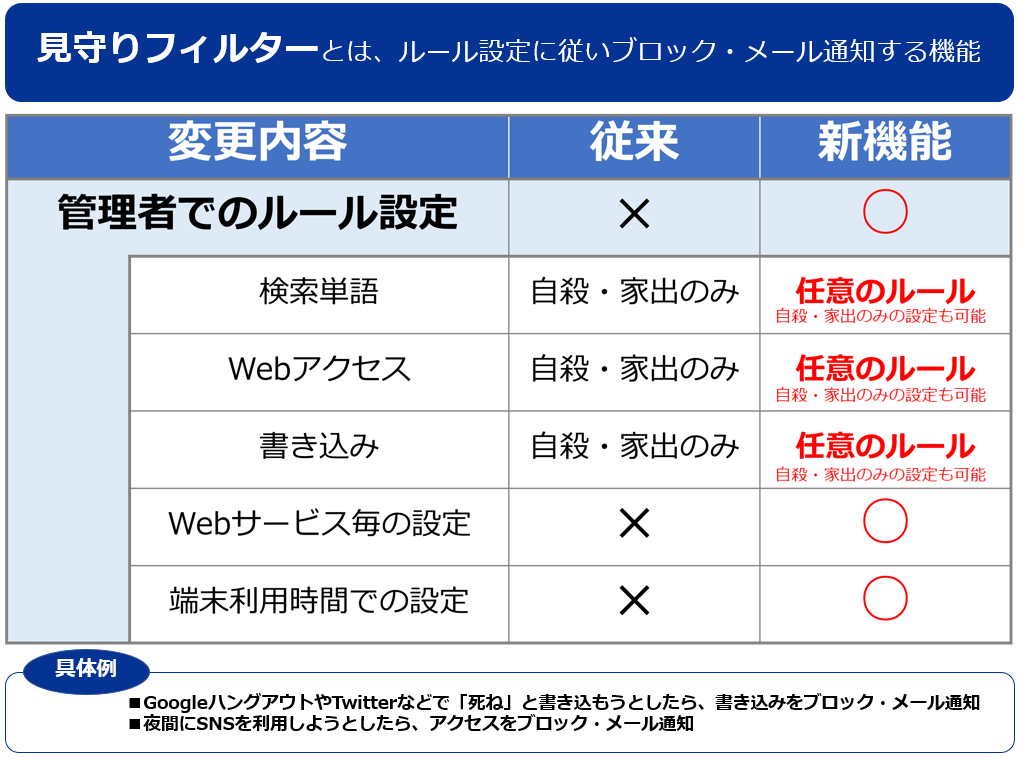 Terms related to suicide were searched over 10 times in just 5 days on learning devices
Under the GIGA School Program, which aims to provide devices and high-speed internet to every student nationwide, many local governments completed the introduction of learning devices by the end of 2020.

The table below shows suicide-related keywords searched by students between April 19 and 23, 2021*3, from a school board using the learning devices distributed at a part of the GIGA School Program. These search terms were picked up by Digital Arts using the Protection Filters in i-FILTER@Cloud GIGA School Edition. Although we can assume some of the searches were done out of curiosity, we found that more than 10 suicide-related terms were searched in just five days, even though the device was meant to be used for specifically learning.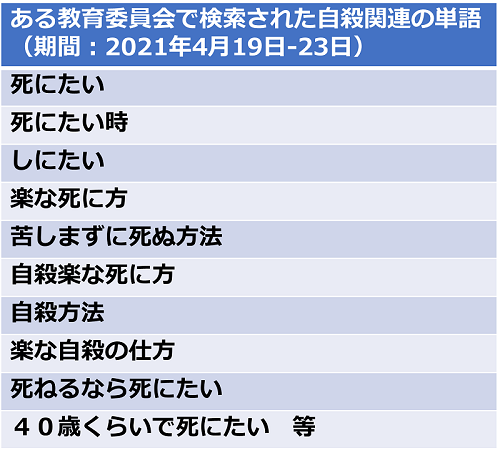 Children and students who have little to no contact access to the internet at home can now access the Internet through these distributed learning devices. If web filtering is not used, students can easily access websites related to suicide.

Youth suicide is a serious social issue. When a user tries to access a suicide-related website, Digital Arts' Protection Filters can not only block access with i-FILTER but also simultaneously notify administrators via e-mail. By receiving notifications, administrators are able to tell which students have accessed websites related to suicide and who are in need of help, which they were not able to do before. By providing mental health support to students as soon as possible and before their issues worsen, the system acts as a "watchdog alarm" that can save their lives.
i-FILTER@Cloud's Protection Filters now allows administrators to set their own rules
Administrators can now specify terms to be detected.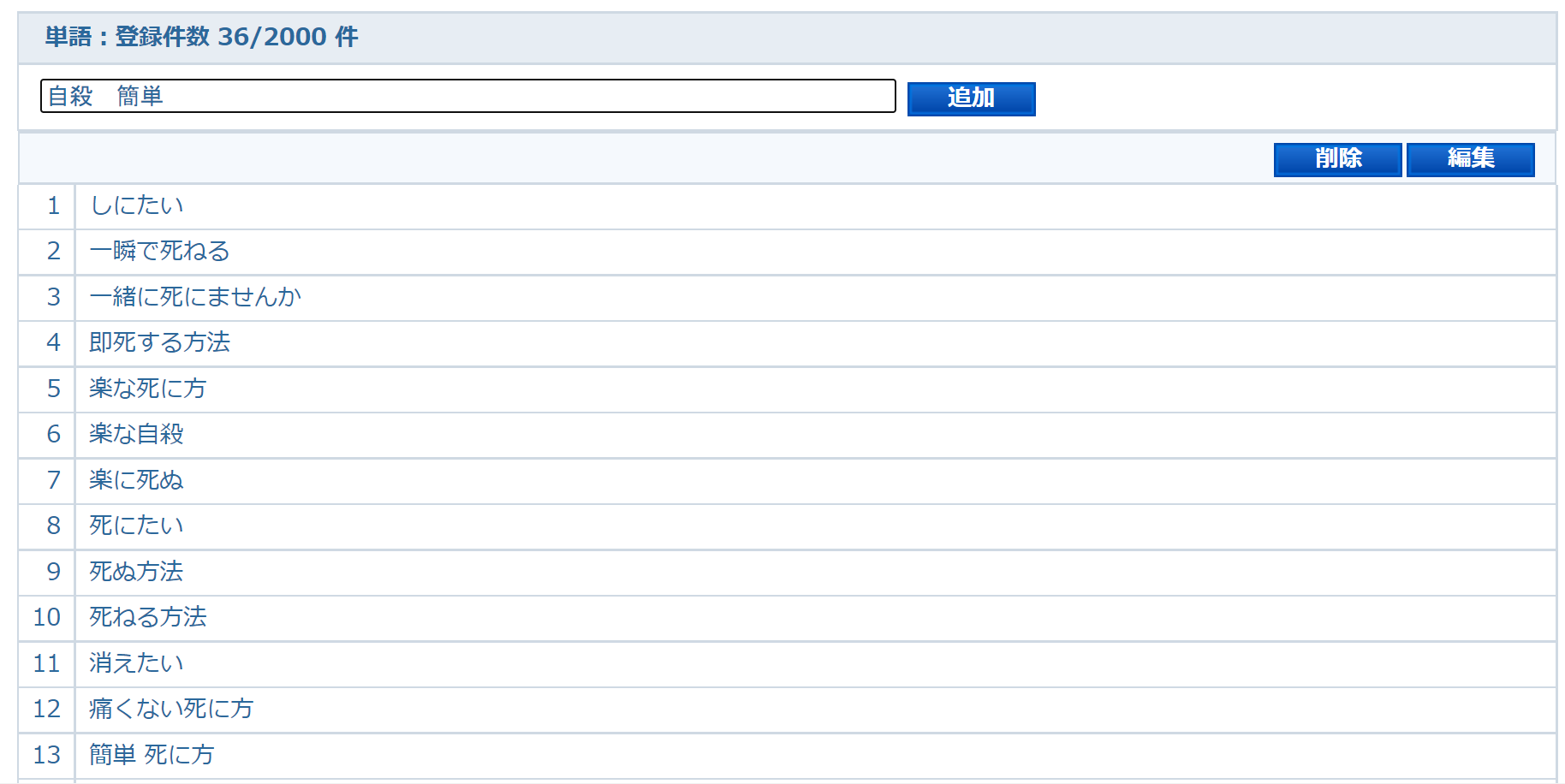 *1 Ministry of Education, Culture, Sports, Science and Technology, "2020 Survey on Problematic Student Behavior, Truancy, and Other Issues Related to Student Guidance" (published on October 13, 2021)
https://www.mext.go.jp/content/20201015-mext_jidou02-100002753_01.pdf
About 70% of the suicide victims were high school students, most of whom were put under the "unknown" category as the bullying they suffered from went unnoticed.

*2 Ministry of Education, Culture, Sports, Science and Technology, "2020 Survey on Problematic Student Behavior, Truancy, and Other Issues Related to Student Guidance" (published on October 13, 2021)
https://www.mext.go.jp/a_menu/shotou/seitoshidou/1422178_00002.htm

*3 The search results were obtained using learning devices distributed to approximately 40,000 high school students by the local government.
Digital Arts Inc. Overview

Digital Arts Inc. is an information security solution provider focused on the development and sales of security software for web, e-mail, files and other uses.
Since its founding in 1995, the company philosophy has been "Contributing to a safer, better, more convenient internet lifestyle" and since developing web-filtering software to prevent the browsing of harmful information on the internet, the company has been promoting internet security products to companies, the public sector and homes everywhere.
Otemachi First Square, West Tower 14F, 1-5-1, Otemachi, Chiyoda-ku, Tokyo, Japan
URL: https://www.daj.jp/
* Digital Arts, DIGITAL ARTS, i-FILTER, info board, Active Rating System, D-SPA, NET FILTER, SP-Cache, White Web, ZBRAIN, Credential Protection, Whitelisting, m-FILTER, m-FILTER MailFilter, m-FILTER Archive, m-FILTER Anti-Spam, m-FILTER File Scan, Mail Detox, m-FILTER EdgeMTA, EdgeMTA, FinalCode, i-Filter, and DigitalArts@Cloud, Desk@Cloud, Desk, D-Alert, D-Contents and other names, logos, icons, designs, etc. related to Digital Arts and its products are registered trademarks of Digital Arts, Inc.
* Other corporate and product names are the trademarks of their respective companies.