Press Release
April 28, 2022
Digital Arts Inc.
New i-FILTER & m-FILTER Optional Features Available May 10
— Two new features, Splunk Link and URL Category Identification —
Information security solutions provider Digital Arts Inc. (headquarters: Chiyoda-ku, Tokyo, Japan; CEO: Toshio Dogu; hereinafter referred to as "Digital Arts"; Code 2326) is pleased to announce that on May 10, it will add two new optional features to its i-FILTER@Cloud web security cloud service and m-FILTER@Cloud email security cloud service. The first, "Splunk Link," integrates with the SIEM products offered by Splunk Inc. (headquarters: California, U.S.; President and CEO: Gary Steele; hereinafter referred to as "Splunk") in real-time while the second, "URL Category Identification," uses the email security product m-FILTER to categorize URLs contained inside emails.
An increase in the number of cyber attacks is set to increase demand for risk management, including incident detection and recovery
As digitization and working from home become more prevalent, malware attack methods are becoming more sophisticated and clever, and cyber attacks that exploit weaknesses in remote work networks and security measures are increasing. Companies and organizations in Japan have also been experiencing a string of ransomware and Emotet infections.

Given these circumstances, there has been a growing demand for risk management that includes not only measures to prevent cyber attacks but also detect and recover from them.
Integrated management of logs and rapid threat detection and response through Splunk Link
Digital Arts offers i-FILTER@Cloud for secure web access and m-FILTER@Cloud for receiving safe and secure emails. By utilizing the database of URLs and emails we have collected over the years, we have created a system called Whitelisting, which only allows access to websites and emails that we have deemed safe.

In addition to Whitelisting, i-FILTER@Cloud and m-FILTER@Cloud will work with the SIEM product Splunk. SIEM are products that perform correlation analysis on various logs and send alerts when anomalies are detected, thereby enabling rapid detection of threats and enabling the review and improvement of security measures based on the results of the analysis. Splunk is a product that enables the detection, investigation, and analysis of security incidents based on machine data.

Through this integration with Splunk, when a computer accesses a dangerous website or receives a dangerous email, i-FILTER@Cloud and m-FILTER@Cloud logs are sent to Splunk in real-time, allowing it to carry out correlation analysis for rapid threat detection and analysis.

Additionally, the logs of i-FILTER@Cloud, m-FILTER@Cloud, and other security products can be managed centrally on Splunk, significantly reducing the work required for operation. As well, unique logs, such as logs of blocked unknown and dangerous websites obtained through i-FILTER@Cloud and m-FILTER@Cloud's Whitelisting feature can be used for logs in other products, which is useful for reviewing and improving security measures.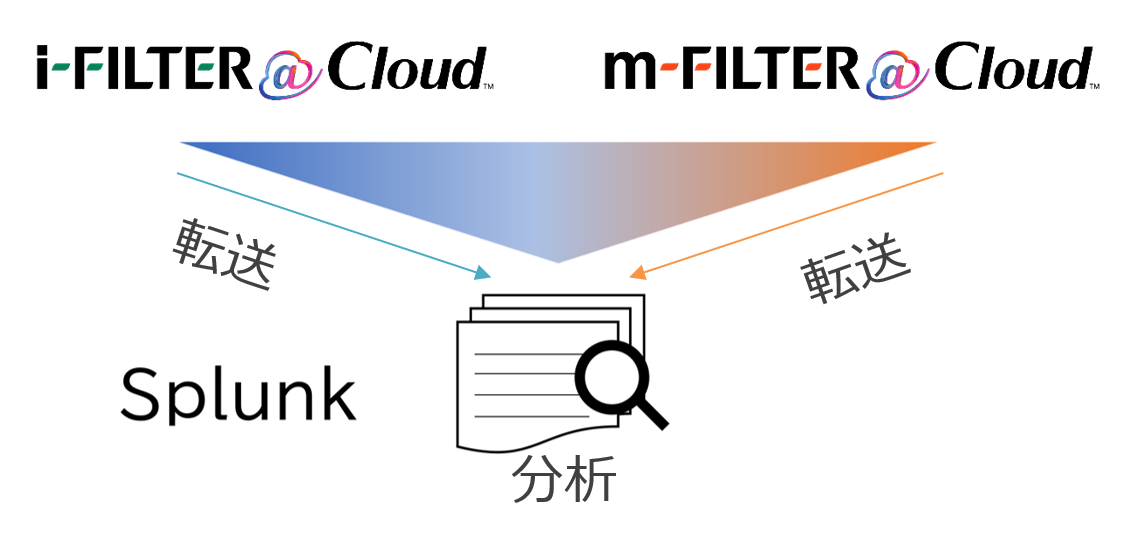 m-FILTER only users can also use the optional i-FILTER feature URL Category Identification
m-FILTER is an email security service that can analyze the sender, file extension of attached files, and disguised URLs contained in the body of emails. Until now, customers using m-FILTER needed to purchase i-FILTER in order to use the URL Category Identification feature, which determines which category a URL in the body of an email or attached file falls into.

However, we are now adding it as an optional extra to m-FILTER. This will enable customers using only m-FILTER to use URL Category Identification simply by selecting it as an add-on. Even users who only use m-FILTER to protect against attack emails that may contain URLs that link to dangerous websites can use the i-FILTER database to identify dangerous URLs and dramatically improve their safety.

New optional feature details
Splunk Link
Available with: i-FILTER@Cloud and m-FILTER@Cloud
Price: 100 yen per license/month (excl. consumption tax)
*This offer is only available to customers who are currently using Splunk products.

URL Category Identification
Available with: i-FILTER@Cloud and m-FILTER Ver. 5
Price: 100 yen per license/month (excl. consumption tax)

Both Splunk Link and URL Category Identification require an annual contract.
Brochure
Digital Arts Inc. Overview

Digital Arts Inc. is an information security solution provider focused on the development and sales of security software for web, e-mail, files and other uses.
Since its founding in 1995, the company philosophy has been "Contributing to a safer, better, more convenient internet lifestyle" and since developing web-filtering software to prevent the browsing of harmful information on the internet, the company has been promoting internet security products to companies, the public sector and homes everywhere
Otemachi First Square, West Tower 14F, 1-5-1, Otemachi, Chiyoda-ku, Tokyo, Japan
URL: https://www.daj.jp/
Digital Arts, DIGITAL ARTS, i-FILTER, i-FILTER@Cloud Anti-Virus & Sandbox, info board, Active Rating System, D-SPA, NET FILTER, SP-Cache, White Web, ZBRAIN, Credential Protection, Whitelisting, m-FILTER, m-FILTER MailFilter, m-FILTER Archive, m-FILTER Anti-Spam, m-FILTER Anti-Virus & Sandbox, m-FILTER@Cloud Anti-Virus & Sandbox, m-FILTER File Scan, Mail Detox, m-FILTER EdgeMTA, EdgeMTA, FinalCode, i-Filter, and DigitalArts@Cloud, Desk@Cloud, Desk, D-Alert, D-Contents and other names, logos, icons, designs, etc. related to Digital Arts and its products are registered trademarks of Digital Arts, Inc.
Other corporate and product names are the trademarks of their respective companies.