Press Release
April 21, 2020
Digital Arts, Inc.
Employee Benefit Program Established to Remove Anxiety and Boost Communication while Working from Home

¥10,000 per month* allowance for "Lunch@Cloud" and "Drinks@Cloud"
Information security solution provider Digital Arts, Inc. (headquartered in Chiyoda-ku, Tokyo, Japan; CEO: Toshio Dogu; hereinafter referred to as "Digital Arts"; Code 2326), as a measure to boost communication while working from home, has begun a program to offer up to 10,000 yen per month to its employees as a benefit, for the purpose of online lunch dates and online drinking gatherings via its "Chat@Cloud" software.
Reduced opportunities for communication an issue with shift toward working from home
Due to the spread of COVID-19, on April 6 Digital Arts moved to a work from home model. By working from home, we plan to continue to be able to offer safe and reliable security products, while also reducing the risk not only to the health and safety of employees and their families, but also to that of customers as much as possible.
However, the most significant obstacle to working from home has been reduced opportunities to communicate. Consultations with co-workers and seminars for customers can be carried out online without any problems, however face-to-face interaction with co-workers has sharply decreased. For this reason it now takes more time to complete tasks previously finished quickly through direct interaction. Not only this, but employees themselves feel a sense of isolation, which could have effects on their mental wellbeing.
With this in mind, a new benefit program was put in place to increase opportunities for employees to have social interaction, and to be able to have a break and a chance to vent when needed. To facilitate this, the company began to offer reimbursement to employees for up to three online lunches (500 yen per time) and up to one online drinking get-together (1,000 yen per time) each week.
Online lunch / Online drinking get-together program
Lunch@Cloud / Drinks@Cloud
We offer the following reimbursement options for using our "Chat@Cloud" software for online gatherings of multiple staff members, for both online lunches and online drinking get-togethers.
Amount, number of times

Lunch@Cloud - up to 3 times per week, 500 yen per time reimbursement
Drinks@Cloud - up to 1 time per week, 1,000 yen per time reimbursement
Digital Arts had actually held intra-department online drinking get-togethers and online gatherings for new recruits and their recruiters and the like since before the start of this program. Through this experience we found that the smoothest and most enjoyable conversations were held with four to five members in a gathering. Going forward, we hope that more of our employees will be able to take advantage of this program to increase the number of online lunches and drinking get-togethers, and we hope that employees will offer their feedback so that we can improve this in-house program.
Employees' free and open conversation, intra and inter-department communications as power for the company
A nationwide state of emergency was declared in Japan due to the spread of COVID-19, and with it came a shared feeling of being cooped up not only in the business world, but in the entire world in general. To reduce the risk to employees, their families and to customers as much as possible, health and safety was protected by switching to a work-from-home model, and by safeguarding employees' minds and health we aim to improve productivity and to offer service to our customers with an even higher level of hospitality.
As an information security provider that protects safety on the internet, Digital Arts feels it necessary to protect both customers' personal safety and the safety of their informational assets, and will continue to work toward improving product precision and to offering services directed at this goal.
* The maximum allowance amount is reached if taking three online lunches (500 yen per lunch, up to three times) per week and one online drinking get-together (1,000 yen per get-together) per week for 4 weeks in total.
Digital Arts Business Chat Product "Chat@Cloud"

This business chat tool aims to improve the security and productivity of intra-company communication, and is offered free of charge to customers who utilize Digital Arts products. Functions available through paid plans, such as a video chat feature and a desktop sharing feature make it possible to hold online meetings utilizing video and shared materials. On March 16 of this year, a feature allowing guest users to join chats was added, making it possible to consult with users and clients outside the company.
For more details (in Japanese)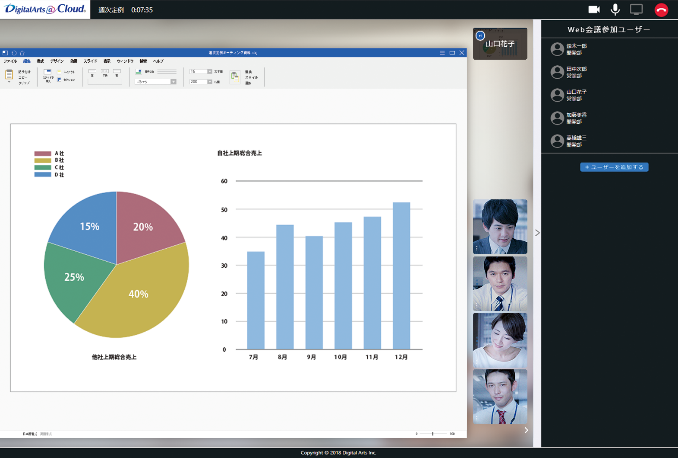 * DIGITAL ARTS, i-FILTER, info board, ARS, Active Rating System, ACTIVE RATING, ZBRAIN, D-SPA, SP-Cache, NET FILTER, White Web, m-FILTER, m-FILTER MailFilter, m-FILTER Archive, m-FILTER Anti-Spam, m-FILTER File Scan, Mail Detox, FinalCode, i-FILTER, DigitalArts@Cloud, Chat@Cloud, D Alert, D Content, and related logos and icons are trademarks or registered trademarks of Digital Arts Inc. FinalCode is a registered trademark of FinalCode, Inc.
* Other corporate and product names are the trademarks of their respective companies.