Press Release
July 5, 2022
Digital Arts Inc.
Security Report
Jan-Jun 2022 Domestic Security Incidents
— The most common type of infection was "malware" (15 times that of last year), and "Emotet" saw another rise
Information security solutions provider Digital Arts Inc. (headquarters: Chiyoda-ku, Tokyo, Japan; CEO: Toshio Dogu; hereinafter referred to as "Digital Arts"; Code 2326) is pleased to announce the release of a security report that contains a compilation of domestic security incidents from the first half of 2022.
Independent tabulation of information leaks and other security incidents in domestic organizations from Jan-Jun 2022
Security incidents such as information leaks at domestic organizations in the first half of 2022 (January to June) were independently compiled based on public reports by the organizations concerned and press materials from the media.

It was found that the number of domestic security incidents in the first half of 2022 increased by 1.6 times, 570 incidents, compared to the same period in 2021. The largest number of incidents, "malware infections" (e.g., Emotet malware infections, other ransomware infections), increased approximately 15 times to 293 incidents.

The next largest category, "Mishandling or inadequate settings," decreased with 71 cases.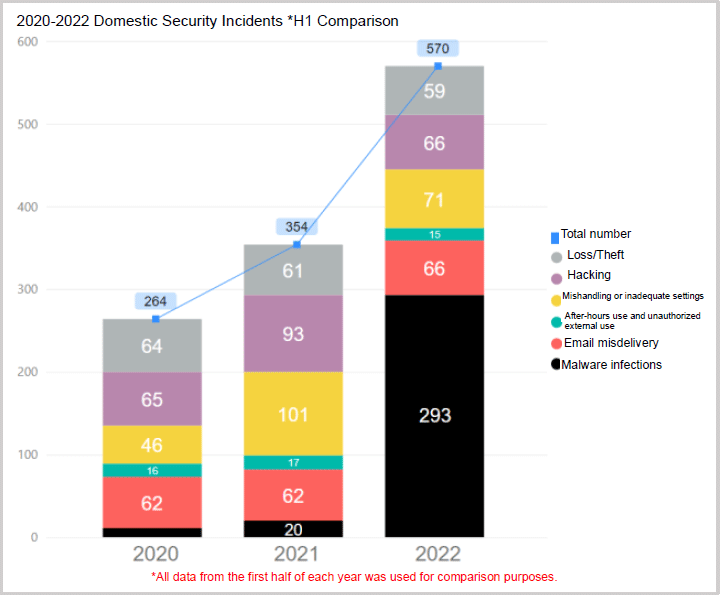 The most common security incident was "malware infection," particularly "Emotet" infections
Of the 293 malware infections, Emotet infections accounted for the largest number at 273, indicating the severity of its damage. Emotet is a piece of malware that has been known since 2014 and was taken down in early 2021. However, it reappeared around November 2021 and has since continued to be sporadically active.

Reports of Emotet infections were approx. 273 times higher than in the first half of 2021. However, an accurate comparison cannot be made as Emotet was momentarily inactive between late January and mid-November 2021. Nevertheless, it is clear that the number of infections has increased rapidly compared to 2020, when Emotet was rampaging through systems.

Generally, it is difficult to discern the damage of security incidents on the victim's side. However, the reasons for the increase in damage reports from victims can be attributed to the following: 1. Third-parties who have received falsified e-mails have brought it to the victim's attention, 2. "EmoCheck" has greatly reduced the time and cost of checking, and 3. security awareness has changed.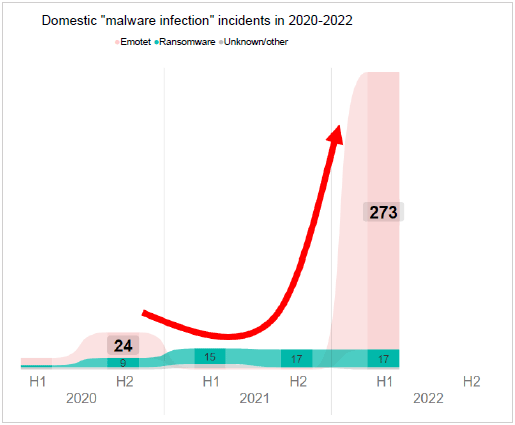 Remain careful of Emotet
Emotet, like ransomware, is not often heard of with reports of "major post-infection damage" that threatens businesses. However, Emotet not only steals email information and sends attack emails, but in the past has also infected computers with other malware such as Trickbot and Qakbot and installed a tool called Cobalt Strike that makes computers more vulnerable to various different attacks. Recently, there have been reports of the addition of a feature that steals credit card information stored in the infected device's web browser.

It's necessary to always be prepared to prevent infection, to prevent serious damage to your organization if infected, and to prevent the spread of infection to your business partners and others.
Digital Arts Emotet countermeasures
Emotet attacks are mainly carried out via email. The methods include attaching emails with Microsoft Office files with macros to ZIP files with passwords that security tools find difficult to detect, attaching emails with Microsoft Office files with macros, and using URLs in email bodies. Digital Arts's countermeasures against Emotet infections.
▶https://www.daj.jp/bs/lp/emotet/
▶Click here for the report on domestic security incident aggregation for Jan-Jun 2022.
The following information is available on our corporate website.
Security report https://www.daj.jp/security_reports/220705_1/
Digital Arts Inc. Overview

Digital Arts Inc. is an information security solution provider focused on the development and sales of security software for web, e-mail, files and other uses.
Since its founding in 1995, the company philosophy has been "Contributing to a safer, better, more convenient internet lifestyle" and since developing web-filtering software to prevent the browsing of harmful information on the internet, the company has been promoting internet security products to companies, the public sector and homes everywhere
Otemachi First Square, West Tower 14F, 1-5-1, Otemachi, Chiyoda-ku, Tokyo, Japan
URL: https://www.daj.jp/
DIGITAL ARTS, i-FILTER, i-FILTER Anti-Virus & Sandbox, i-FILTER@Cloud Anti-Virus & Sandbox, info board, Active Rating System, D-SPA, Anti-Virus & Sandbox for D-SPA, NET FILTER, SP-Cache, White Web, ZBRAIN, Credential Protection, White Unyo, m-FILTER, m-FILTER MailFilter, m-FILTER Archive, m-FILTER Anti-Spam, m-FILTER Anti-Virus & Sandbox, m-FILTER@Cloud Anti-Virus & Sandbox, m-FILTER File Scan, Mail Detox, m-FILTER EdgeMTA, EdgeMTA, FinalCode, DigitalArts@Cloud, Desk@Cloud, Desk, D Alert, D Contents, and other related names, logos, icons and designs of our products are registered trademarks or trademarks of Digital Arts Inc.
Other corporate and product names are the trademarks of their respective companies.
---