Topics
March 10, 2017
Digital Arts Inc.
Digital Arts Presents
Eliminate Smartphone Anxiety: Smartphone Safety Seminar for 50+
Digital Arts Inc. presents Eliminate Smartphone Anxiety: Smartphone Safety Class for 50+ on Friday, March 24 at the Mainichi Media Café.
While smartphone is an indispensable tool in our daily lives, many are also apprehensive about the flood of one-click frauds, phishing websites, and adult contents. In this seminar, participants will learn what to look out for when using app stores and video-sharing websites and actually experience the malicious tricks used by one-click frauds and phishing websites. Digital Arts Chief Evangelist Yosuke Kudo also demonstrates how filtering play a part in safe smartphone usage.
Smartphones can be incredibly useful if you understand the dangers. This seminar is perfect for those who are novice with smartphones but has not been able to fully utilize the device because of various fears.
Overview
Date & Time

Friday, March 24, 2017 14:00-15:30 (registration starts at 13:30)

Venue

Mainichi Media Cafe
Inside Mainichi Newspapers Headquarters
Palace Side Building 1F
1-1-1 Hitotsubashi, Chiyoda-ku, Tokyo 100-8051

Space Available

20 people *participant must be over 50 years old and a first-time smartphone user

Registration Fees

Free of charge *seminar will have smartphones available to be used during the event

Mainichi Media Cafe Website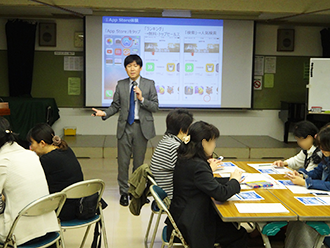 Program Image