Topics
February 8, 2017
Digital Arts Inc.
Cyber Security Forum Osaka 2017
Digital Arts Inc. ("Digital Arts"), in cooperation with Toyo Keizai, Inc., hosted Cyber Security Forum Osaka 2017: The present and future of cyber security on Thursday, January 19 at the Westin Osaka.
This forum focused on global security operation and risk management, actual conditions/measures against rapid increase of cyber attacks, and practical operations to be executed by management, compliance, and audit departments. Key individuals active in the frontlines of cyber security have been invited to spark discussions on where the world is with cyber security and where it is heading.
The keynote speech was given by Digital Arts CTO Noriyuki Takahashi where he presented Where Digital Arts is Headed to enlighten the audience on what we really need to protect in a midst of a security breach and the ideal role of security.
Special lectures were given by President and Chief Evangelist of LAC Cyber Grid Hiroshi Kawaguchi (What We Must Do to Protect Organizations from Cyber Attacks) and Executive Director and Senior Analysist of Cyber Defense Institute Toshio Nawa (Repeated Failures Combating Cyber Attacks). Case Study Lecture was given by Takeshi Ono, Director of Project Development, Enterprise Solution Unit of Aisel who presented Principle Rule of Preventing Data Loss by File Collaboration: Large enterprise file security based on our case studies.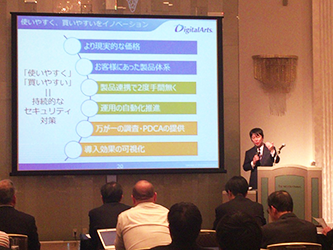 Keynote Speech