Topics
March 17, 2017
Digital Arts Inc.
Forum: Mobile Phones and Internet Safety Class
Digital Arts Inc. exhibited a booth at the Forum: Mobile and Internet Safety Class held in Inage city, Chiba Prefecture on Saturday, February 25, 2017.
This event was hosted by the Council of Hostile Environment Surrounding Chiba prefecture Youths, the Japan Media Literacy Education Organization, and the Chiba University Faculty of Education Practice Development Laboratory where various organizations exhibited booths to introduce various efforts and programs to promote safe smartphone usage among minors.
At the Digital Arts Booth, visitors experienced Digital Arts' Simulating Smartphone Dangers App developed by Digital Arts for minors to learn proper cyber literacy and morale and provided learning materials that can be used in classrooms and study groups to ensure that minors can use smartphones safely.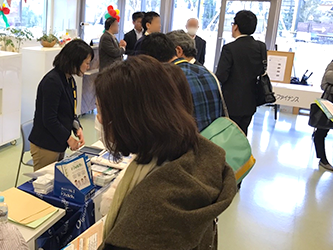 Booth Image